Nicotinamide Riboside Chloride - CAS 23111-00-4
Nicotinamide Riboside Chloride(CAT: I008290), also known as NR and SRT647, is a pyridine-nucleoside form of vitamin B3 that acts as a precursor to nicotinamide adenine dinucleotide or NAD+. Nicotinamide Riboside prevents the aging of muscle, nerve, and melanocyte stem cells. This product is used for medical research and development.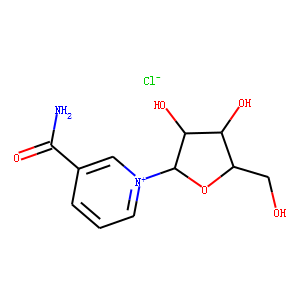 Molecular Formula: C11H15ClN2O5
Molecular Weight:290.7
* For research use only. Not for human or veterinary use.
Synonym
| | |
| --- | --- |
| Synonyms | Nicotinamide riboside; SRT647; SRT-647; SRT 647; Nicotinamide Riboside Triflate, α/β mixture;3-carbamoyl-1-((3R,4S,5R)-3,4-dihydroxy-5-(hydroxymethyl)tetrahydrofuran-2-yl)pyridin-1-ium chloride |
Property
| | |
| --- | --- |
| Molecular Formula: | C11H15ClN2O5 |
| Molecular Weight | 290.7 |
| Solubility | Soluble in DMSO |
| Purity | ≥95% |
| Storage | 0 - 4 °C for short term, or -20 °C for long term |
Computed Descriptor
| | |
| --- | --- |
| IUPAC Name | 1-[(2R,3R,4S,5R)-3,4-dihydroxy-5-(hydroxymethyl)oxolan-2-yl]pyridin-1-ium-3-carboxamide;chloride |
| InChI | InChI=1S/C11H14N2O5.ClH/c12-10(17)6-2-1-3-13(4-6)11-9(16)8(15)7(5-14)18-11;/h1-4,7-9,11,14-16H,5H2,(H-,12,17);1H/t7-,8-,9-,11-;/m1./s1 |
| InChIKey | YABIFCKURFRPPO-IVOJBTPCSA-N |
| SMILES | C1=CC(=C[N+](=C1)C2C(C(C(O2)CO)O)O)C(=O)N.[Cl-] |