MI-463 - CAS 1628317-18-9
MI-463 is a potent menin-MLL inhibitor with IC50=15.3 nM and Kd=9.9 nM. MI-463 shows its profound effects in MLL leukemia cells and substantial survival benefit in mouse models of MLL leukemia. Pharmacologic inhibition of the menin-MLL interaction represents an effective treatment for MLL leukemias in vivo and provide advanced molecular scaffold for clinical lead identification. Chromosomal translocations affecting mixed lineage leukemia gene (MLL) result in acute leukemias resistant to therapy. The leukemogenic activity of MLL fusion proteins is dependent on their interaction with menin, providing basis for therapeutic intervention.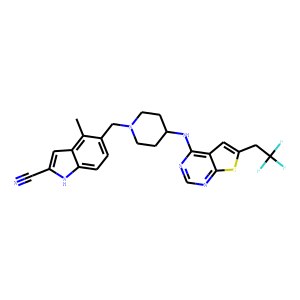 Molecular Formula: C24H23F3N6S
Molecular Weight:484.5452
* For research use only. Not for human or veterinary use.
Synonym
| | |
| --- | --- |
| Synonyms | MI-463; MI 463; MI463.;4-methyl-5-((4-((6-(2,2,2-trifluoroethyl)thieno[2,3-d]pyrimidin-4-yl)amino)piperidin-1-yl)methyl)-1H-indole-2-carbonitrile |
Property
| | |
| --- | --- |
| Molecular Formula: | C24H23F3N6S |
| Molecular Weight | 484.5452 |
| Target: | menin-MLL inhibitor |
| Solubility | Soluble in DMSO, not in water |
| Purity | ≥95% |
| Storage | 0 - 4 °C for short term, or -20 °C for long term |
| MDL | 15.3 Nm |
| IC50 | 15.3 nM |
Computed Descriptor
| | |
| --- | --- |
| SMILES | CC1=C2C(NC(C#N)=C2)=CC=C1CN(CC3)CCC3NC4=C(C=C(CC(F)(F)F)S5)C5=NC=N4 |