Methylliberine - CAS 51168-26-4
Methylliberine(CAT: R027747) is a purine derivative that acts as an alkaloid metabolite of caffeine with specific excitatory effects and can also be used as a reversible inhibitor of acetylcholinesterase. Methylliberine can be extracted from tea leaves, coffee beans, and other plant species. This product is used in organic synthesis, pharmaceutical research and development, and other scientific research fields.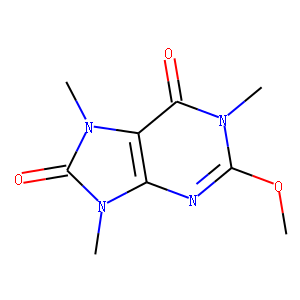 Molecular Formula: C9H12N4O3
Molecular Weight:224.22
* For research use only. Not for human or veterinary use.
Synonym
| | |
| --- | --- |
| Synonyms | N-Methylliberine; 1,2,7,9-Tetramethyluric Acid; 2-Methoxy-1,7,9-trimethylpurine-6,8(1H,9H)-dione; O2,1,2,7,9-Tetramethyluric Acid |
Property
| | |
| --- | --- |
| Molecular Formula: | C9H12N4O3 |
| Molecular Weight | 224.22 |
| Purity | ≥95% |
| Storage | -20°C |
Computed Descriptor
| | |
| --- | --- |
| IUPAC Name | 2-methoxy-1,7,9-trimethylpurine-6,8-dione |
| InChI | InChI=1S/C9H12N4O3/c1-11-5-6(12(2)9(11)15)10-8(16-4)13(3)7(5)14/h1-4H3 |
| InChIKey | ZVQXCXPGLSBNCX-UHFFFAOYSA-N |
| SMILES | CN1C2=C(N=C(N(C2=O)C)OC)N(C1=O)C |