Methyl Anthranilate- CAS 134-20-3
Methyl anthranilate (Cat. No.: R019645) is naturally present in the essential oils of citrus, tuberose, jasmine, gardenia and neroli. It has a strong fruity and floral fragrance, and is one of the backbone products of the fragrance industry, widely used in daily flavors and edible flavors, and also used in organic synthesis.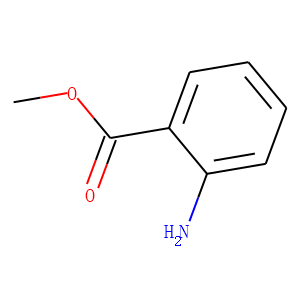 Catalog Number: R019645
CAS Number: 134-20-3
PubChem Substance ID:355180654
Molecular Formula: C8H9NO2
Molecular Weight:151.165
Purity: ≥95%
* For research use only. Not for human or veterinary use.
Synonym
| | |
| --- | --- |
| Synonyms | 2-aminobenzoic Acid Methyl Ester; 2-(Methoxycarbonyl)aniline; 2-Aminobenzoic Acid Methyl Ester; 2-Carbomethoxyaniline; Bird Shield; Grain 96-1; Methyl 2-Aminobenzoate; Methyl 6-aminobenzoate; Methyl o-aminobenzoate; NSC 3109; ReJex-iT; Rejex-iT AP 5 |
Property
| | |
| --- | --- |
| Molecular Formula: | C8H9NO2 |
| Molecular Weight | 151.165 |
| Purity | ≥95% |
| Storage | -20°C |
Computed Descriptor
| | |
| --- | --- |
| IUPAC Name | methyl 2-aminobenzoate |
| InChI | InChI=1S/C8H9NO2/c1-11-8(10)6-4-2-3-5-7(6)9/h2-5H,9H2,1H3 |
| InChIKey | VAMXMNNIEUEQDV-UHFFFAOYSA-N |
| SMILES | COC(=O)C1=CC=CC=C1N |