METHIAZOLE- CAS 74239-55-7
METHIAZOLE(CAT:T000098) is a benzimidazole derivative. It is a broad-spectrum insect repellent by blocking the enzyme process by which the parasite absorbs glucose, causing the parasite to die. This product is used for organic synthesis, drug development, and other scientific research purposes.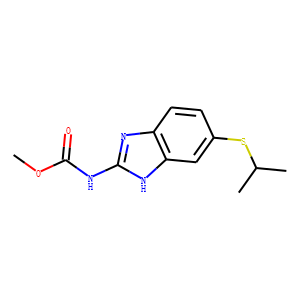 Catalog Number: T000098
CAS Number: 74239-55-7
PubChem Substance ID:355178805
Molecular Formula: C12H15N3O2S
Molecular Weight:265.331
Purity: ≥95%
* For research use only. Not for human or veterinary use.
Synonym
| | |
| --- | --- |
| Synonyms | 2-methoxycarbonylamino-5-isopropylthio-1H-benzimidazole |
Property
| | |
| --- | --- |
| Molecular Formula: | C12H15N3O2S |
| Molecular Weight | 265.331 |
| Solubility | Well in acetic acid<br>Moderately in chloroform<br>Practically not in 95% ethanol and water |
| Purity | ≥95% |
| Storage | Stable in dry state.Store at 4°C, in dark place. |
Computed Descriptor
| | |
| --- | --- |
| IUPAC Name | methyl N-(6-propan-2-ylsulfanyl-1H-benzimidazol-2-yl)carbamate |
| InChI | InChI=1S/C12H15N3O2S/c1-7(2)18-8-4-5-9-10(6-8)14-11(13-9)15-12(16)17-3/h4-7H,1-3H3,(H2,13,14,15,16) |
| InChIKey | SXJIZQPZESTWLD-UHFFFAOYSA-N |
| SMILES | CC(C)SC1=CC2=C(C=C1)N=C(N2)NC(=O)OC |