Mesitylene- CAS 108-67-8
Mesitylene (Cat No.:R022766), also known as 1,3,5-trimethylbenzene, is widely found in coal tar and certain petroleum, and is an important organic chemical raw material. It is used to make homophthalic acid, as well as antioxidant, epoxy resin curing agent, polyester resin stabilizer, alkyd resin plasticizer, etc.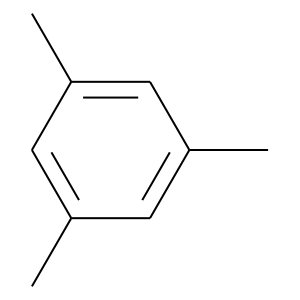 Molecular Formula: C9H12
Molecular Weight:120.195
* For research use only. Not for human or veterinary use.
Synonym
| | |
| --- | --- |
| Synonyms | 1,3,5-Trimethylbenzene; 2,4,6-Trimethylbenzene; 3,5-Dimethyltoluene; NSC 9273; sym-Trimethylbenzene; |
Property
| | |
| --- | --- |
| Molecular Formula: | C9H12 |
| Molecular Weight | 120.195 |
| Purity | ≥95% |
| Storage | Store at RT |
Computed Descriptor
| | |
| --- | --- |
| IUPAC Name | 1,3,5-trimethylbenzene |
| InChI | InChI=1S/C9H12/c1-7-4-8(2)6-9(3)5-7/h4-6H,1-3H3 |
| InChIKey | AUHZEENZYGFFBQ-UHFFFAOYSA-N |
| SMILES | CC1=CC(=CC(=C1)C)C |