Mercury(II) Cyanide - CAS 592-04-1
Mercury(II) cyanide (Cat.No:R062292) is a highly toxic inorganic compound consisting of one mercury atom bonded to two cyanide ions. It is a white, crystalline solid that is extremely poisonous due to its release of toxic cyanide ions when it reacts with acids or is metabolized in living organisms.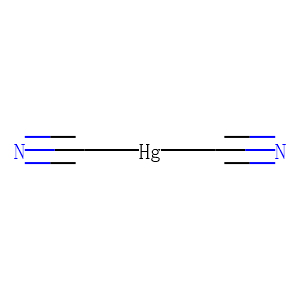 Molecular Formula: C2HgN2
Molecular Weight:252.628
* For research use only. Not for human or veterinary use.
Synonym
| | |
| --- | --- |
| Synonyms | Mercury Cyanide; Cianurina; Dicyanomercury; Mercuric Cyanide; Mercuric Cyanide; Mercury Dicyanide; |
Property
| | |
| --- | --- |
| Molecular Formula: | C2HgN2 |
| Molecular Weight | 252.628 |
| Purity | ≥95% |
| Storage | Room temperature |
Computed Descriptor
| | |
| --- | --- |
| IUPAC Name | dicyanomercury |
| InChI | InChI=1S/2CN.Hg/c2*1-2; |
| InChIKey | FQGYCXFLEQVDJQ-UHFFFAOYSA-N |
| SMILES | C(#N)[Hg]C#N |