MDK7526 HCl - CAS 1448189-80-7
MDK7526 HCl (CAT: I011953) is a potent and selective protein degrader, also known as Protein degrader 1 or VHL Ligand 1. It is specifically designed to target and degrade the androgen receptor (AR). MDK7526 HCl binds to the AR and recruits the ubiquitin ligase VHL (von Hippel-Lindau) complex, leading to the ubiquitination and subsequent degradation of the AR protein. By promoting the degradation of AR, MDK7526 HCl can effectively inhibit AR-mediated signaling pathways, making it a potential therapeutic option for diseases such as prostate cancer, where the AR pathway plays a critical role.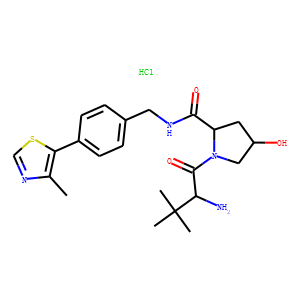 Molecular Formula: C22H31ClN4O3S
Molecular Weight:467.025
Purity: ≥95%
Inventory:In stock
* For research use only. Not for human or veterinary use.
Synonym
| | |
| --- | --- |
| Synonyms | VHL Ligand 1 (hydrochloride); Protein degrader 1 hydrochloride; MDK7526 HCl; MDK7526; MDK-7526; MDK 7526.;(2S,4R)-1-((S)-2-amino-3,3-dimethylbutanoyl)-4-hydroxy-N-(4-(4-methylthiazol-5-yl)benzyl)pyrrolidine-2-carboxamide hydrochloride |
Property
| | |
| --- | --- |
| Molecular Formula: | C22H31ClN4O3S |
| Molecular Weight | 467.025 |
| Solubility | Soluble in DMSO |
| Purity | ≥95% |
| Storage | Store at 0-8 °C |
Computed Descriptor
| | |
| --- | --- |
| InChI | InChI=1S/C22H30N4O3S.ClH/c1-13-18(30-12-25-13)15-7-5-14(6-8-15)10-24-20(28)17-9-16(27)11-26(17)21(29)19(23)22(2,3)4;/h5-8,12,16-17,19,27H,9-11,23H2,1-4H3,(H,24,28);1H/t16-,17+,19-;/m1./s1 |
| InChIKey | JYRTWGCWUBURGU-MSSRUXLCSA-N |
| SMILES | O=C([C@H]1N(C([C@@H](N)C(C)(C)C)=O)C[C@H](O)C1)NCC2=CC=C(C3=C(C)N=CS3)C=C2.[H]Cl |