MDK08445 - CAS 1225208-44-5
MDK08445(CAT: I007926) is an important intermediate for the synthesis of Cefiderocol, a potent antibiotic effective against a range of Gram-negative bacteria, including MDR strains. The catechol moiety on its 3-position side chain is an important feature that contributes to its high potency.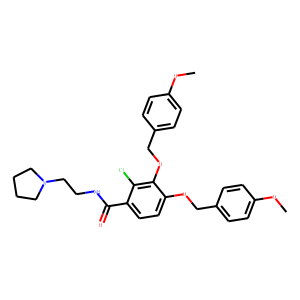 Molecular Formula: C29H33ClN2O5
Molecular Weight:525.04
* For research use only. Not for human or veterinary use.
Synonym
| | |
| --- | --- |
| Synonyms | MDK08445; MDK 08445; MDK-08445. Cefiderocol-intermediate, Cefiderocol-precursor.;2-chloro-3,4-bis((4-methoxybenzyl)oxy)-N-(2-(pyrrolidin-1-yl)ethyl)benzamide |
Property
| | |
| --- | --- |
| Molecular Formula: | C29H33ClN2O5 |
| Molecular Weight | 525.04 |
| Solubility | Soluble in DMSO |
| Purity | ≥95% |
| Storage | 0 - 4 °C for short term, or -20 °C for long term |
Computed Descriptor
| | |
| --- | --- |
| InChI | InChI=1S/C29H33ClN2O5/c1-34-23-9-5-21(6-10-23)19-36-26-14-13-25(29(33)31-15-18-32-16-3-4-17-32)27(30)28(26)37-20-22-7-11-24(35-2)12-8-22/h5-14H,3-4,15-20H2,1-2H3,(H,31,33) |
| InChIKey | JHVSKUKBBZURJZ-UHFFFAOYSA-N |
| SMILES | O=C(C1=CC=C(OCC2=CC=C(OC)C=C2)C(OCC3=CC=C(OC)C=C3)=C1Cl)NCCN4CCCC4 |