Matairesinol - CAS 580-72-3
Diets high in fiber contain plant lignan species that may be directly responsible for some observed health benefits of these diets. Matairesinol is one of the principle lignans present in dietary fiber. It is absorbed directly, in addition to being further metabolized by enteric bacteria to enterolactone and enterodiol. Recent observations have shown an inverse association between serum enterolactone levels and serum isoprostane levels. This association implies a protective effect against oxidative injury associated with the dietary lignans themselves, enterolactone, or some intermediate in this pathway.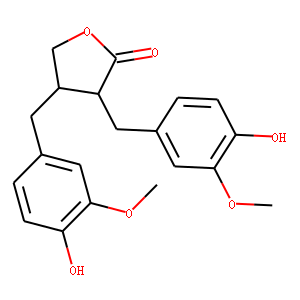 Molecular Formula: C20H22O6
Molecular Weight:358.39
* For research use only. Not for human or veterinary use.
Synonym
| | |
| --- | --- |
| Synonyms | dihydro-3R,4R-bis[(4-hydroxy-3-methoxyphenyl)methyl]-2(3H)-furanone |
Property
| | |
| --- | --- |
| Molecular Formula: | C20H22O6 |
| Molecular Weight | 358.39 |
| Purity | ≥95% |
| Storage | -20°C |
Computed Descriptor
| | |
| --- | --- |
| IUPAC Name | (3R,4R)-3,4-bis[(4-hydroxy-3-methoxyphenyl)methyl]oxolan-2-one |
| InChI | InChI=1S/C20H22O6/c1-24-18-9-12(3-5-16(18)21)7-14-11-26-20(23)15(14)8-13-4-6-17(22)19(10-13)25-2/h3-6,9-10,14-15,21-22H,7-8,11H2,1-2H3/t14-,15+/m0/s1 |
| InChIKey | MATGKVZWFZHCLI-LSDHHAIUSA-N |
| SMILES | COC1=C(C=CC(=C1)CC2COC(=O)C2CC3=CC(=C(C=C3)O)OC)O |