marinobufagenin - CAS 470-42-8
Marinobufagenin (CAS 470-42-8) is a cardiotonic bufadienolide steroid secreted by the toad Bufo rubescens and other related species such as Bufo marinus. It is a vasoconstrictor with effects similar to digitalis.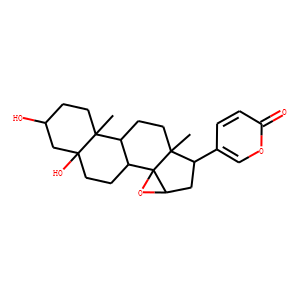 Molecular Formula: C24H32O5
Molecular Weight:400.515
* For research use only. Not for human or veterinary use.
Synonym
| | |
| --- | --- |
| Synonyms | Marinobufagin;Marinobufogenin;marinobufagenin;3β,5β-Dihydroxy-14β,15β-epoxybufa-20,22-dienolide;3β,5-Dihydroxy-14,15β-epoxy-5β-bufa-20,22-dienolide;14,15β-Epoxy-3β,5-dihydroxy-5β-bufa-20,22-dienolide |
Property
| | |
| --- | --- |
| Molecular Formula: | C24H32O5 |
| Molecular Weight | 400.515 |
| Solubility | Insoluble in water |
| Purity | ≥95% |
| Storage | -20oC |
Computed Descriptor
| | |
| --- | --- |
| IUPAC Name | 5-[(1R,2S,4R,6R,7R,10S,11R,14S,16S)-14,16-dihydroxy-7,11-dimethyl-3-oxapentacyclo[8.8.0.02,4.02,7.011,16]octadecan-6-yl]pyran-2-one |
| InChI | InChI=1S/C24H32O5/c1-21-8-5-15(25)12-23(21,27)10-7-17-16(21)6-9-22(2)18(11-19-24(17,22)29-19)14-3-4-20(26)28-13-14/h3-4,13,15-19,25,27H,5-12H2,1-2H3/t15-,16-,17+,18+,19+,21+,22+,23-,24+/m0/s1 |
| InChIKey | JMNQTHQLNRILMH-OBBGIPBRSA-N |
| SMILES | CC12CCC(CC1(CCC3C2CCC4(C35C(O5)CC4C6=COC(=O)C=C6)C)O)O |