MANGANESE PENTACARBONYL BROMIDE - CAS 14516-54-2
MANGANESE PENTACARBONYL BROMIDE(CAT: M062004) is an organic manganese complex commonly used to introduce deuterium to aromatic rings. It can also be used as a catalyst in REDOX reactions. This product is used for organic synthesis and other scientific research purposes.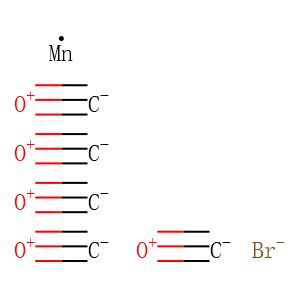 Molecular Formula: C5BrMnO5-
Molecular Weight:274.892
* For research use only. Not for human or veterinary use.
Property
| | |
| --- | --- |
| Molecular Formula: | C5BrMnO5- |
| Molecular Weight | 274.892 |
| Purity | ≥95% |
| Storage | -20°C |
Computed Descriptor
| | |
| --- | --- |
| IUPAC Name | carbon monoxide;manganese;bromide |
| InChI | InChI=1S/5CO.BrH.Mn/c5*1-2;;/h;;;;;1H;/p-1 |
| InChIKey | LOCZKKJCQVRJPQ-UHFFFAOYSA-M |
| SMILES | [C-]#[O+].[C-]#[O+].[C-]#[O+].[C-]#[O+].[C-]#[O+].[Mn].[Br-] |