Malachite green oxalate - CAS 2437-29-8
Malachite green oxalate(Cat No.:R071088) is a versatile chemical compound with multiple applications. As a biological stain, it is employed to color cells and tissues in a blue-green hue, facilitating microscopic examination and study. Additionally, it serves as a dye for silk, leather, and paper, imparting vibrant colors to these materials. Its broad utility in both scientific and industrial settings makes malachite green oxalate a valuable tool for various staining and coloring purposes, contributing to research, manufacturing, and artistic endeavors.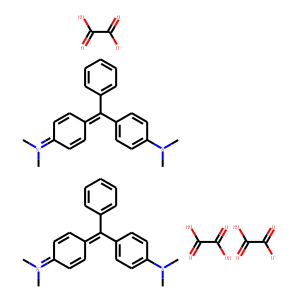 Molecular Formula: C52H54N4O12
Molecular Weight:927.02
* For research use only. Not for human or veterinary use.
Property
| | |
| --- | --- |
| Molecular Formula: | C52H54N4O12 |
| Molecular Weight | 927.02 |
| Purity | ≥95% |
| Storage | RT |
Computed Descriptor
| | |
| --- | --- |
| IUPAC Name | [4-[[4-(dimethylamino)phenyl]-phenylmethylidene]cyclohexa-2,5-dien-1-ylidene]-dimethylazanium;2-hydroxy-2-oxoacetate;oxalic acid |
| InChI | InChI=1S/2C23H25N2.3C2H2O4/c2*1-24(2)21-14-10-19(11-15-21)23(18-8-6-5-7-9-18)20-12-16-22(17-13-20)25(3)4;3*3-1(4)2(5)6/h2*5-17H,1-4H3;3*(H,3,4)(H,5,6)/q2*+1;;;/p-2 |
| InChIKey | CNYGFPPAGUCRIC-UHFFFAOYSA-L |
| SMILES | CN(C)C1=CC=C(C=C1)C(=C2C=CC(=[N+](C)C)C=C2)C3=CC=CC=C3.CN(C)C1=CC=C(C=C1)C(=C2C=CC(=[N+](C)C)C=C2)C3=CC=CC=C3.C(=O)(C(=O)O)O.C(=O)(C(=O)[O-])O.C(=O)(C(=O)[O-])O |