Mahanine - CAS 28360-49-8
Mahanine(CAT: I007901) is a natural alkaloid that is isolated from the leaves and bark of the Murraya koenigii (curry leaf) tree. It has been shown to possess a wide range of pharmacological activities, including anti-inflammatory, antioxidant, anti-cancer, and anti-microbial properties. Mahanine has been found to induce cell cycle arrest and apoptosis in various types of cancer cells, including breast cancer, lung cancer, and colon cancer. It has also been shown to inhibit the growth and spread of cancer cells by suppressing the activity of various signaling pathways involved in tumor development and progression. Mahanine has been proposed as a potential therapeutic agent for the treatment of cancer, as well as other inflammatory and infectious diseases.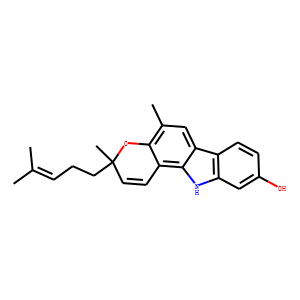 Molecular Formula: C23H25NO2
Molecular Weight:347.458
* For research use only. Not for human or veterinary use.
Property
| | |
| --- | --- |
| Molecular Formula: | C23H25NO2 |
| Molecular Weight | 347.458 |
| Solubility | Soluble in DMSO, not in water |
| Purity | ≥95% |
| Storage | 0 - 4 °C for short term, or -20 °C for long term |
Computed Descriptor
| | |
| --- | --- |
| IUPAC Name | (3R)-3,5-dimethyl-3-(4-methylpent-3-enyl)-11H-pyrano[3,2-a]carbazol-9-ol |
| InChI | InChI=1S/C23H25NO2/c1-14(2)6-5-10-23(4)11-9-18-21-19(12-15(3)22(18)26-23)17-8-7-16(25)13-20(17)24-21/h6-9,11-13,24-25H,5,10H2,1-4H3/t23-/m1/s1 |
| InChIKey | DWMBXHWBPZZCTN-HSZRJFAPSA-N |
| SMILES | CC1=C2C(=C3C(=C1)C4=C(N3)C=C(C=C4)O)C=CC(O2)(C)CCC=C(C)C |