Maclurin - CAS 519-34-6
Maclurin (Cat No.:R063653) is a natural compound found in the bark of the Osage orange tree (Maclura pomifera). It is a dihydrochalcone flavonoid derivative. Maclurin has shown potential as an antioxidant, anti-inflammatory, and antimicrobial agent. It exhibits antiviral activity against herpes simplex virus (HSV) and human immunodeficiency virus (HIV). Additionally, maclurin has been studied for its ability to inhibit enzymes involved in the production of advanced glycation end products (AGEs), which may have implications for managing age-related diseases such as diabetes.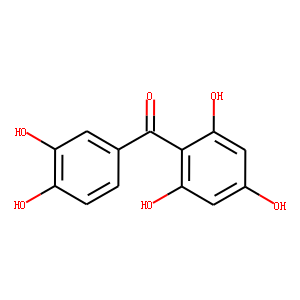 Molecular Formula: C13H10O6
Molecular Weight:262.217
* For research use only. Not for human or veterinary use.
Property
| | |
| --- | --- |
| Molecular Formula: | C13H10O6 |
| Molecular Weight | 262.217 |
| Purity | ≥95% |
| Storage | 2-8°C |
Computed Descriptor
| | |
| --- | --- |
| IUPAC Name | (3,4-dihydroxyphenyl)-(2,4,6-trihydroxyphenyl)methanone |
| InChI | InChI=1S/C13H10O6/c14-7-4-10(17)12(11(18)5-7)13(19)6-1-2-8(15)9(16)3-6/h1-5,14-18H |
| InChIKey | XNWPXDGRBWJIES-UHFFFAOYSA-N |
| SMILES | C1=CC(=C(C=C1C(=O)C2=C(C=C(C=C2O)O)O)O)O |