Losmapimod - CAS 585543-15-3
Losmapimod (CAT: I004186), also known as GW856553X, SB856553, or GSK-AHAB, is a selective and potent inhibitor of p38 mitogen-activated protein kinase (MAPK). It is administered orally and exhibits activity against the alpha and beta isoforms of p38 MAPK. Losmapimod has been investigated for its potential therapeutic applications in various inflammatory and immune-mediated diseases. By inhibiting p38 MAPK, Losmapimod can modulate the activity of downstream inflammatory signaling pathways, making it a promising target for the development of novel anti-inflammatory drugs.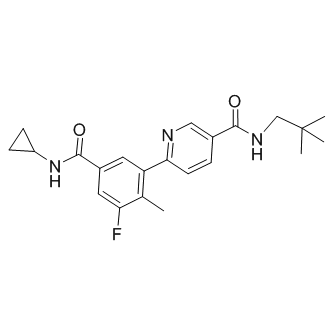 Molecular Formula: C22H26FN3O2
Molecular Weight:383.5
* For research use only. Not for human or veterinary use.
Property
| | |
| --- | --- |
| Molecular Formula: | C22H26FN3O2 |
| Molecular Weight | 383.5 |
| Target: | p38 |
| Solubility | DMSO: ≥ 58 mg/mL |
| Purity | ≥95% |
| Storage | Store at -20°C |
| IC50 | 8.1/7.6 (pKi, p38α/p38β) [1] |
Computed Descriptor
| | |
| --- | --- |
| InChIKey | KKYABQBFGDZVNQ-UHFFFAOYSA-N |