Lobetyolin - CAS 129277-38-9
Lobetyolin, a bioactive compound, is derived from Codonopsis pilosula. Lobetyolin has anti-inflammatory, anti-oxidative
and xanthine oxidase inhibiting activities. Lobetyolin also induces the apoptosis via the inhibition of ASCT2-mediated
glutamine metabolism.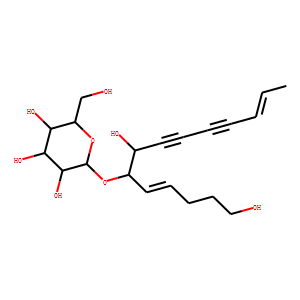 Molecular Formula: C20H28O8
Molecular Weight:396.43
Purity: 98%
Inventory:Usually in stock!
Appearance:White to yellow (Solid)
* For research use only. Not for human or veterinary use.
Property
| | |
| --- | --- |
| Molecular Formula: | C20H28O8 |
| Molecular Weight | 396.43 |
| Purity | 98% |
| Analysis method | HPLC |
Computed Descriptor
| | |
| --- | --- |
| IUPAC Name | (2R,3R,4S,5S,6R)-2-[(4E,12E)-1,7-dihydroxytetradeca-4,12-dien-8,10-diyn-6-yl]oxy-6-(hydroxymethyl)oxane-3,4,5-triol |
| InChI | InChI=1S/C20H28O8/c1-2-3-4-5-7-10-14(23)15(11-8-6-9-12-21)27-20-19(26)18(25)17(24)16(13-22)28-20/h2-3,8,11,14-26H,6,9,12-13H2,1H3/b3-2+,11-8+/t14?,15?,16-,17-,18+,19-,20-/m1/s1 |
| InChIKey | MMMUDYVKKPDZHS-UPPVCQNNSA-N |
| SMILES | CC=CC#CC#CC(C(C=CCCCO)OC1C(C(C(C(O1)CO)O)O)O)O |