LGD-4033 - CAS 1165910-22-4
LGD-4033 (Cat. No: I000595), also known as Ligandrol or VK-5211, is a novel non-steroidal, oral selective androgen receptor modulator with high affinity and selectivity for androgen receptors.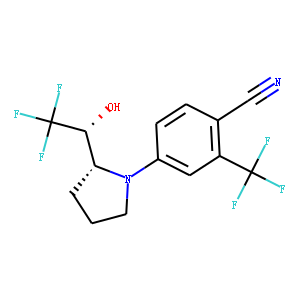 Molecular Formula: C14H12F6N2O
Molecular Weight:338.3
Purity: ≥95%
Inventory:In Stock
* For research use only. Not for human or veterinary use.
Synonym
| | |
| --- | --- |
| Synonyms | LGD-4033; LGD4033;LGD 4033;4-[(2R)-2-[(1R)-2,2,2-trifluoro-1-hydroxyethyl]-1-pyrrolidinyl]-2-(trifluoromethyl)-benzonitrile |
Property
| | |
| --- | --- |
| Molecular Formula: | C14H12F6N2O |
| Molecular Weight | 338.3 |
| Target: | androgen receptor (AR) |
| Solubility | 10 mM in DMSO |
| Purity | ≥95% |
| Storage | -20°C |
| MDL | MFCD27923016 |
| Overview of Clinical Research | LGD-4033<span style="color:#000000;"><span style="font-family:arial,helvetica,sans-serif;"><span style="font-size:12px;">, also known as VK5211 or&nbsp;Ligandrol, is a selective androgen receptor modulator.&nbsp;VK 5211 is still in phase I development for Muscular atrophy in USA (Viking Therapeutics pipeline, September 2020).</span></span></span> |
| IC50 | 1 nM (Ki, for androgen receptor) |
Computed Descriptor
| | |
| --- | --- |
| IUPAC Name | 4-[(2R)-2-[(1R)-2,2,2-trifluoro-1-hydroxyethyl]pyrrolidin-1-yl]-2-(trifluoromethyl)benzonitrile |
| InChI | InChI=1S/C14H12F6N2O/c15-13(16,17)10-6-9(4-3-8(10)7-21)22-5-1-2-11(22)12(23)14(18,19)20/h3-4,6,11-12,23H,1-2,5H2/t11-,12-/m1/s1 |
| InChIKey | OPSIVAKKLQRWKC-JHJMLUEUSA-N |
| SMILES | O[C@@H](C(F)(F)F)[C@@]1([H])CCCN1C2=CC(C(F)(F)F)=C(C#N)C=C2 |