LDN-212854 - CAS 1432597-26-6
LDN-212854 is a novel BMP inhibitor that exhibits substantially greater selectivity for BMP versus the TGF-β type I receptors; possesses a bias towards ALK2(IC50=1.3 nM) versus ALK1 and ALK3 compared to other inhibitors.
IC50 value: 1.3 nM [1]
Target: ALK2
In vitro, LDN-212854 exhibits some selectivity for ALK2 in preference to other BMP type I receptors, ALK1 and ALK3, which may permit the interrogation of ALK2-mediated signaling, transcriptional activity and function. LDN-212854 potently inhibits
heterotopic ossification in an inducible transgenic mutant ALK2 mouse model of fibrodysplasia ossificans progressiva.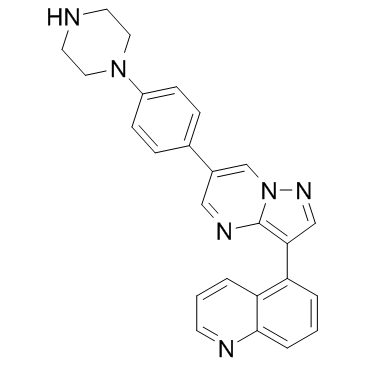 Molecular Formula: C25H22N6
Molecular Weight:406.5
* For research use only. Not for human or veterinary use.
Property
| | |
| --- | --- |
| Molecular Formula: | C25H22N6 |
| Molecular Weight | 406.5 |
| Target: | TGF-βR1(ALK5) |
| Solubility | DMSO: ≥ 30 mg/mL |
| Purity | ≥95% |
| Storage | Store at -20°C |
| IC50 | 1.3 nM [1] |
Computed Descriptor
| | |
| --- | --- |
| InChIKey | BBDGBGOVJPEFBT-UHFFFAOYSA-N |