LAURYL GLUCOSIDE - CAS 110615-47-9
Lauryl glucose(CAT: M013181) is used as a surfactant. It has excellent decontamination, emulsification, solubilization, foaming, and foaming stability, which belongs to the mild surfactant. It has excellent compatibility with the skin and good flexibility for the hair. This product is used in the research field of color makeup and so on.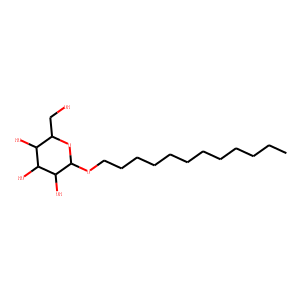 Molecular Formula: C18H36O6
Molecular Weight:348.47
* For research use only. Not for human or veterinary use.
Synonym
| | |
| --- | --- |
| Synonyms | Dodecyl D-glucoside; lauryl glucoside; dodecyl d-glucopyranoside |
Property
| | |
| --- | --- |
| Molecular Formula: | C18H36O6 |
| Molecular Weight | 348.47 |
| Purity | ≥95% |
| Storage | Desiccate at -20℃ |
Computed Descriptor
| | |
| --- | --- |
| IUPAC Name | (3R,4S,5S,6R)-2-dodecoxy-6-(hydroxymethyl)oxane-3,4,5-triol |
| InChI | 1S/C18H36O6/c1-2-3-4-5-6-7-8-9-10-11-12-23-18-17(22)16(21)15(20)14(13-19)24-18/h14-22H,2-13H2,1H3/t14-,15-,16+,17-,18?/m1/s1 |
| InChIKey | PYIDGJJWBIBVIA-IHAUNJBESA-N |
| SMILES | CCCCCCCCCCCCOC1C(C(C(C(O1)CO)O)O)O |