Lathosterol - CAS 80-99-9
Lathosterol(CAT: R053043) is an intermediate product of cholesterol synthesis, which is generally used to monitor the body's overall cholesterol synthesis. This product is used for organic synthesis, pharmaceutical research and development, and other scientific purposes.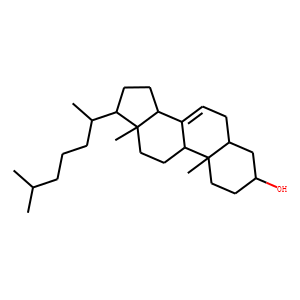 Molecular Formula: C27H46O
Molecular Weight:386.664
* For research use only. Not for human or veterinary use.
Synonym
| | |
| --- | --- |
| Synonyms | (3β,5α)-Cholest-7-en-3-ol; 5α-Cholest-7-en-3β-ol; 3β-Hydroxy-5α-cholest-7-ene; 7-En-3-cholestanol; Cholest-7-en-3-ol; Lathosterol; Δ7-Cholestenol; γ-Cholestenol; |
Property
| | |
| --- | --- |
| Molecular Formula: | C27H46O |
| Molecular Weight | 386.664 |
| Purity | ≥95% |
| Storage | -20°C |
Computed Descriptor
| | |
| --- | --- |
| IUPAC Name | (3S,5S,9R,10S,13R,14R,17R)-10,13-dimethyl-17-[(2R)-6-methylheptan-2-yl]-2,3,4,5,6,9,11,12,14,15,16,17-dodecahydro-1H-cyclopenta[a]phenanthren-3-ol |
| InChI | InChI=1S/C27H46O/c1-18(2)7-6-8-19(3)23-11-12-24-22-10-9-20-17-21(28)13-15-26(20,4)25(22)14-16-27(23,24)5/h10,18-21,23-25,28H,6-9,11-17H2,1-5H3/t19-,20+,21+,23-,24+,25+,26+,27-/m1/s1 |
| InChIKey | IZVFFXVYBHFIHY-SKCNUYALSA-N |
| SMILES | CC(C)CCCC(C)C1CCC2C1(CCC3C2=CCC4C3(CCC(C4)O)C)C |