JWH 022 - CAS 209414-16-4
JWH 022 is a cannabimimetic indole that is structurally related to JWH 018, a mildly selective agonist of the peripheral cannabinoid (CB2) receptor. The biological activity of JWH 022 has not been reported.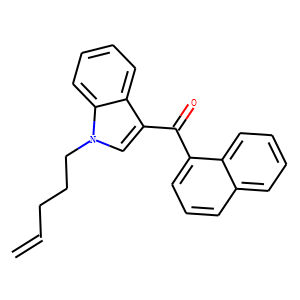 Molecular Formula: C24H21NO
Molecular Weight:339.438
* For research use only. Not for human or veterinary use.
Synonym
| | |
| --- | --- |
| Synonyms | AM2201 N-(4-pentenyl) analog |
Property
| | |
| --- | --- |
| Molecular Formula: | C24H21NO |
| Molecular Weight | 339.438 |
| Purity | ≥95% |
| Storage | -20°C |
Computed Descriptor
| | |
| --- | --- |
| IUPAC Name | naphthalen-1-yl-(1-pent-4-enylindol-3-yl)methanone |
| InChI | InChI=1S/C24H21NO/c1-2-3-8-16-25-17-22(20-13-6-7-15-23(20)25)24(26)21-14-9-11-18-10-4-5-12-19(18)21/h2,4-7,9-15,17H,1,3,8,16H2 |
| InChIKey | IVVCMEGHVSDGFJ-UHFFFAOYSA-N |
| SMILES | C=CCCCN1C=C(C2=CC=CC=C21)C(=O)C3=CC=CC4=CC=CC=C43 |