JTC-801 - CAS 244218-51-7
JTC-801 is a selective opioid receptor-like1 (ORL1) receptor antagonist with IC50 of 94 nM, weakly inhibits receptors δ, κ, and μ.
IC50 value: 94 nM [1]
Target: ORL1
in vitro: In rat cerebrocortical membrane, JTC-801 inhibits ORL1 receptor with IC50 of 472 nM and μ-receptor with IC50 of 1831 nM. JTC-801 completely antagonizes the suppression of nociceptin on forskolin-induced accumulation of cyclic AMP with IC50 of 2.58 μM in HeLa cells expressing ORL1 receptor [1]. JTC-801 displays about 12.5-, 129-, and 1055-fold selectivity for ORL1 receptor (Ki = 8.2 nM) over μ-, κ-, and δ-opioid receptors, respectively. JTC-801 does not inhibit forskolin-stimulated cyclic AMP accumulation in human ORL1 receptor-expressing HeLa cells, but it prevents nociceptin-induced inhibition of cyclic AMP accumulation, indicating that JTC-801 possesses full antagonistic activity [2].
in vivo: In mouse hot-plate test, JTC-801 prolongs escape response latency (ERL) or exposed heat stimulus with minimum effective doses (MED) of 0.01 mg/kg by i.v. or 1 mg/kg by p.o. In the rat formalin test, JTC-801 reduces both the first and second phases of the nociceptive response with MED of 0.01 mg/kg71 by i.v. or 1 mg/kg by p.o [1]. Oral administration of JTC-801 (0.3-3 mg/kg) antagonizes nociceptin-induced allodynia in mice, and shows analgesic effect in a hot plate test using mice and in a formalin test using rats [2]. JTC-801 dose-dependently normalizes paw withdrawal latency (PWL). Although JTC-801 does not inhibit a chronic constriction injury (CCI)-induced decrease in bone mineral content (BMC) and bone mineral density (BMD), it inhibits an increase in the number of osteoclasts [3].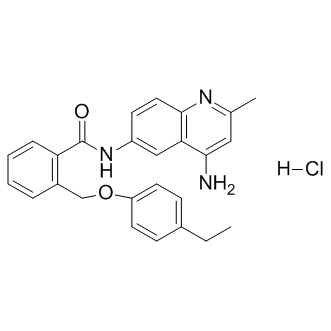 Molecular Formula: C26H25N3O2 • HCl
Molecular Weight:448.0
* For research use only. Not for human or veterinary use.
Synonym
| | |
| --- | --- |
| Synonyms | N-(4-amino-2-methylquinolin-6-yl)-2-[(4-ethylphenoxy)methyl]benzamide;hydrochloride |
Property
| | |
| --- | --- |
| Molecular Formula: | C26H25N3O2 • HCl |
| Molecular Weight | 448.0 |
| Target: | Opioid Receptor |
| Solubility | DMSO ≥86mg/mL Water <1.2mg/mL Ethanol ≥36mg/mL |
| Purity | ≥95% |
| Storage | 3 years -20C powder |
| IC50 | 94 nM [1] |
Computed Descriptor
| | |
| --- | --- |
| InChIKey | NQLIYKXNAXKMBL-UHFFFAOYSA-N |