Jasplakinolide - CAS 102396-24-7
Jasplakinolide(Cat No.:R016194) is a powerful compound derived from marine sponges that induce actin polymerization and stabilize existing actin filaments. It competes with phalloidin for binding to F-actin, with a Kd value of 15nM. This natural cyclic peptide exhibits antifungal and antitumor properties. Jasplakinolide's ability to modulate actin dynamics makes it a valuable tool in cell biology research, particularly in studying cytoskeletal organization and cell motility. It's unique properties and biological activities make it a promising candidate for therapeutic applications in antifungal and antitumor treatments.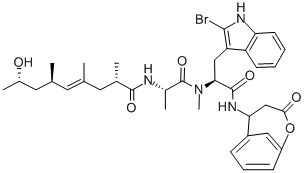 Molecular Formula: C36H45BrN4O6
Molecular Weight:709.70
* For research use only. Not for human or veterinary use.
Synonym
| | |
| --- | --- |
| Synonyms | NSC 613009; [2S-[1(S*),2R*,4E,6S*,8R*]]-N-[2-Bromo-N-[N-(8-hydroxy-2,4,6-trimethyl-1-oxo-4-nonenyl)-L-alanyl]-N-methyl-D-tryptophyl]-3-(4-hydroxyphenyl)-β-alanine ρ-Lactone; 1-Oxa-5,8,11-triazacyclononadecane β-alanine deriv.; (+)-Jasplakinolide; Jas |
Property
| | |
| --- | --- |
| Molecular Formula: | C36H45BrN4O6 |
| Molecular Weight | 709.70 |
| Target: | Actin |
| Solubility | Soluble in DMSO > 10 mM |
| Purity | ≥95% |
| Storage | Store at -20°C |
Computed Descriptor
| | |
| --- | --- |
| IUPAC Name | (4R,7R,10S,13S,15E,17R,19S)-7-[(2-bromo-1H-indol-3-yl)methyl]-4-(4-hydroxyphenyl)-8,10,13,15,17,19-hexamethyl-1-oxa-5,8,11-triazacyclononadec-15-ene-2,6,9,12-tetrone |
| InChI | InChI=1S/C36H45BrN4O6/c1-20-15-21(2)17-23(4)47-32(43)19-30(25-11-13-26(42)14-12-25)40-35(45)31(18-28-27-9-7-8-10-29(27)39-33(28)37)41(6)36(46)24(5)38-34(44)22(3)16-20/h7-15,21-24,30-31,39,42H,16-19H2,1-6H3,(H,38,44)(H,40,45)/b20-15+/t21-,22-,23-,24-,30+,31+/m0/s1 |
| InChIKey | GQWYWHOHRVVHAP-DHKPLNAMSA-N |
| SMILES | CC1CC(OC(=O)CC(NC(=O)C(N(C(=O)C(NC(=O)C(CC(=C1)C)C)C)C)CC2=C(NC3=CC=CC=C32)Br)C4=CC=C(C=C4)O)C |