Janus green B- CAS 2869-83-2
Janus green B (Cat. No: R071100) is a specific living cell dye of mitochondria, which can make mitochondria appear blue-green, while the cytoplasm is close to colorless. It is mainly used for biochemical research.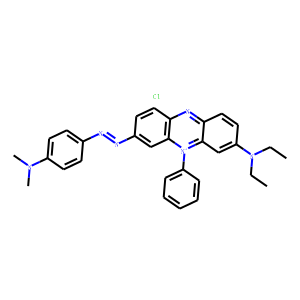 Catalog Number: R071100
CAS Number: 2869-83-2
PubChem Substance ID:355174997
Molecular Formula: C30H31ClN6
Molecular Weight:511.07
Purity: ≥95%
* For research use only. Not for human or veterinary use.
Property
| | |
| --- | --- |
| Molecular Formula: | C30H31ClN6 |
| Molecular Weight | 511.07 |
| Purity | ≥95% |
| Storage | RT |
Computed Descriptor
| | |
| --- | --- |
| IUPAC Name | 8-[[4-(dimethylamino)phenyl]diazenyl]-N,N-diethyl-10-phenylphenazin-10-ium-2-amine;chloride |
| InChI | InChI=1S/C30H31N6.ClH/c1-5-35(6-2)26-17-19-28-30(21-26)36(25-10-8-7-9-11-25)29-20-23(14-18-27(29)31-28)33-32-22-12-15-24(16-13-22)34(3)4;/h7-21H,5-6H2,1-4H3;1H/q+1;/p-1 |
| InChIKey | XXACTDWGHQXLGW-UHFFFAOYSA-M |
| SMILES | CCN(CC)C1=CC2=[N+](C3=C(C=CC(=C3)N=NC4=CC=C(C=C4)N(C)C)N=C2C=C1)C5=CC=CC=C5.[Cl-] |