Isorhapontigenin - CAS 32507-66-7

Isorhapontigenin (CAS 32507-66-7) is a stilbene derivative isolated from a number of plants including Chinese medical herbs Gnetum Cleistostachyum and Iris Domestica (Belamcanda chinensis, leopard lily), and wine grapes. Similarly to resveratrol, isorhapontigenin is a potent antioxidant that attenuates ROS generation. Also, Isorhapontigenin exhibits pro-apoptopic and anti-cancer activities through downregulation of XIAP (X-linked inhibitor of apoptosis protein).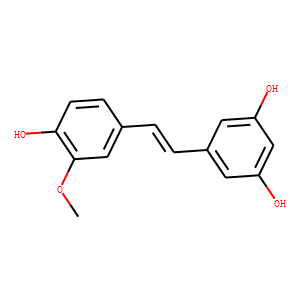 Molecular Formula: C15H14O4
Molecular Weight:258.273
* For research use only. Not for human or veterinary use.
Property
| | |
| --- | --- |
| Molecular Formula: | C15H14O4 |
| Molecular Weight | 258.273 |
| Purity | ≥95% |
| Storage | -20°C |
Computed Descriptor
| | |
| --- | --- |
| IUPAC Name | 5-[(E)-2-(4-hydroxy-3-methoxyphenyl)ethenyl]benzene-1,3-diol |
| InChI | InChI=1S/C15H14O4/c1-19-15-8-10(4-5-14(15)18)2-3-11-6-12(16)9-13(17)7-11/h2-9,16-18H,1H3/b3-2+ |
| InChIKey | ANNNBEZJTNCXHY-NSCUHMNNSA-N |
| SMILES | COC1=C(C=CC(=C1)C=CC2=CC(=CC(=C2)O)O)O |