Isopropyl Cloprostenate - CAS 157283-66-4
Isopropyl Cloprostenate (CAT: R031275), a derivative of cloprostenol, has been found to be an FP receptor agonist as well as a luteolytic agent and can be commonly used as a veterinary drug for its effectiveness in terminating the pregnancy. This product is used for medical research and development and other scientific research purposes.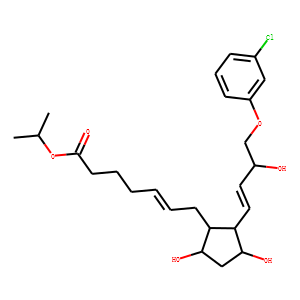 Molecular Formula: C25H35ClO6
Molecular Weight:466.999
* For research use only. Not for human or veterinary use.
Synonym
| | |
| --- | --- |
| Synonyms | (5Z)-7-[(1R,2R,3R,5S)-2-[(1E,3R)-4-(3-Chlorophenoxy)-3-hydroxy-1-buten-1-yl]-3,5-dihydroxycyclopentyl]-5-heptenoic Acid 1-Methylethyl Ester; [1R-[1α(Z),2β(1E,3R*),3α,5α]]-7-[2-[4-(3-Chlorophenoxy)-3-hydroxy-1-butenyl]-3,5-dihydroxycyclopentyl]-5-hept; (+)-Cloprostenol isopropyl ester |
Property
| | |
| --- | --- |
| Molecular Formula: | C25H35ClO6 |
| Molecular Weight | 466.999 |
| Target: | PGF2α agonist |
| Purity | ≥95% |
| Storage | -20°C |
Computed Descriptor
| | |
| --- | --- |
| IUPAC Name | propan-2-yl (Z)-7-[(1R,2R,3R,5S)-2-[(E,3R)-4-(3-chlorophenoxy)-3-hydroxybut-1-enyl]-3,5-dihydroxycyclopentyl]hept-5-enoate |
| InChI | InChI=1S/C25H35ClO6/c1-17(2)32-25(30)11-6-4-3-5-10-21-22(24(29)15-23(21)28)13-12-19(27)16-31-20-9-7-8-18(26)14-20/h3,5,7-9,12-14,17,19,21-24,27-29H,4,6,10-11,15-16H2,1-2H3/b5-3-,13-12+/t19-,21-,22-,23+,24-/m1/s1 |
| InChIKey | OCNSAYQJDKJOLH-AHTXBMBWSA-N |
| SMILES | CC(C)OC(=O)CCCC=CCC1C(CC(C1C=CC(COC2=CC(=CC=C2)Cl)O)O)O |