Isomaltotriose - CAS 3371-50-4
Isomaltotriose (Cat No.: I017303) is mainly composed of oligosaccharides such as isomaltose, pantose and isomaltotriose. Isomaltooligosaccharide has the general characteristics of low viscosity, heat resistance, acid resistance, moisture retention, starch aging prevention, low water activity, bacteria purification, and difficult fermentation. It is mainly used as feed biological additives.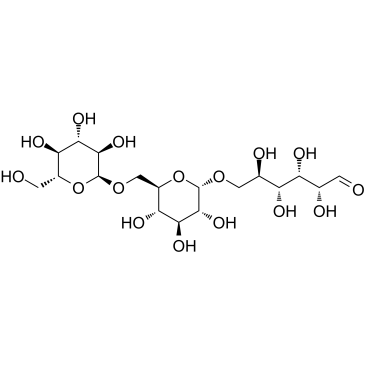 Molecular Formula: C₁₈H₃₂O₁₆
Molecular Weight:504.44
* For research use only. Not for human or veterinary use.
Property
| | |
| --- | --- |
| Molecular Formula: | C₁₈H₃₂O₁₆ |
| Molecular Weight | 504.44 |
| Purity | ≥95% |
| Storage | room temp |
Computed Descriptor
| | |
| --- | --- |
| IUPAC Name | (3R,4S,5S,6R)-6-[[(2S,3R,4S,5S,6R)-3,4,5-trihydroxy-6-[[(2S,3R,4S,5S,6R)-3,4,5-trihydroxy-6-(hydroxymethyl)oxan-2-yl]oxymethyl]oxan-2-yl]oxymethyl]oxane-2,3,4,5-tetrol |
| InChI | InChI=1S/C18H32O16/c19-1-4-7(20)11(24)14(27)17(33-4)31-3-6-9(22)12(25)15(28)18(34-6)30-2-5-8(21)10(23)13(26)16(29)32-5/h4-29H,1-3H2/t4-,5-,6-,7-,8-,9-,10+,11+,12+,13-,14-,15-,16?,17+,18+/m1/s1 |
| InChIKey | FBJQEBRMDXPWNX-FYHZSNTMSA-N |
| SMILES | C(C1C(C(C(C(O1)OCC2C(C(C(C(O2)OCC3C(C(C(C(O3)O)O)O)O)O)O)O)O)O)O)O |