Irbinitinib - CAS 937263-43-9
Irbinitinib(CAT: I005570), also known as TP-0903, is an orally administered small molecule inhibitor of the receptor tyrosine kinase AXL. AXL plays a crucial role in the regulation of various cellular processes such as proliferation, migration, invasion, and survival. Overexpression of AXL has been associated with poor prognosis in various types of cancer. Irbinitinib has shown potent anti-tumor activity in preclinical studies and is being investigated in clinical trials for the treatment of solid tumors, including non-small cell lung cancer and triple-negative breast cancer.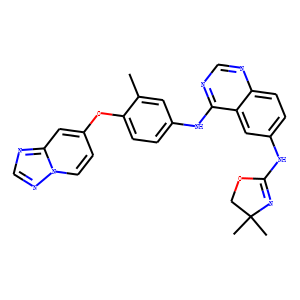 Molecular Formula: C26H24N8O2
Molecular Weight:480.52
* For research use only. Not for human or veterinary use.
Property
| | |
| --- | --- |
| Molecular Formula: | C26H24N8O2 |
| Molecular Weight | 480.52 |
| Target: | EGFR |
| Solubility | 10 mM in DMSO |
| Purity | ≥95% |
| Storage | 3 years -20C powder |
| Overview of Clinical Research | <span style="color:#000000;"><span style="font-family:arial,helvetica,sans-serif;"><span style="font-size:12px;">Irbinitinib is a&nbsp;<span style="orphans: 2; widows: 2;">ERBB 2 receptor antagonist. It has been granted for the orphan drug status in&nbsp;</span><span style="font-variant-ligatures: normal; orphans: 2; widows: 2;">Colorectal cancer and Breast cancer.</span></span></span></span> |
Computed Descriptor
| | |
| --- | --- |
| IUPAC Name | 6-N-(4,4-dimethyl-5H-1,3-oxazol-2-yl)-4-N-[3-methyl-4-([1,2,4]triazolo[1,5-a]pyridin-7-yloxy)phenyl]quinazoline-4,6-diamine |
| InChI | InChI=1S/C26H24N8O2/c1-16-10-17(5-7-22(16)36-19-8-9-34-23(12-19)28-15-30-34)31-24-20-11-18(4-6-21(20)27-14-29-24)32-25-33-26(2,3)13-35-25/h4-12,14-15H,13H2,1-3H3,(H,32,33)(H,27,29,31) |
| InChIKey | SDEAXTCZPQIFQM-UHFFFAOYSA-N |
| SMILES | CC1=CC(NC2=C3C=C(NC4=NC(C)(C)CO4)C=CC3=NC=N2)=CC=C1OC5=CC6=NC=NN6C=C5 |