Ipamorelin - CAS 170851-70-4
Ipamorelin(CAT: M038637), also known as NNC-26-0161, is a ghrelin mimetic. Ipamorelin counteracts the glucocorticoid-induced decrease in bone formation in adult rats. Ipamorelin may ameliorate the symptoms in patients with POI. Ipamorelin accelerates gastric emptying in a rodent model of postoperative ileus through the stimulation of gastric contractility by activating a ghrelin receptor-mediated mechanism involving cholinergic excitatory neurons. This product is used in medical research and development and other scientific research fields.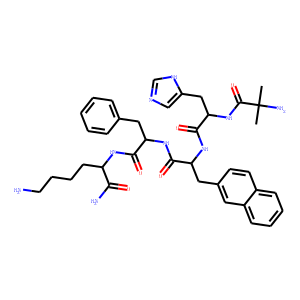 Molecular Formula: C38H49N9O5
Molecular Weight:711.868
* For research use only. Not for human or veterinary use.
Property
| | |
| --- | --- |
| Molecular Formula: | C38H49N9O5 |
| Molecular Weight | 711.868 |
| Purity | ≥95% |
| Storage | Store at -20°C |
| Overview of Clinical Research | <span style="color:#000000;"><span style="font-size:12px;"><span style="font-family:arial,helvetica,sans-serif;">Ipamorelin is a growth hormone releasing factor agonist.&nbsp;Helsinn Therapeutics initiated enrolment in a phase IIb trial for Postoperative ileus in USA (NCT01280344) in 2011.</span></span></span> |
Computed Descriptor
| | |
| --- | --- |
| IUPAC Name | (2S)-6-amino-2-[[(2R)-2-[[(2R)-2-[[(2S)-2-[(2-amino-2-methylpropanoyl)amino]-3-(1H-imidazol-5-yl)propanoyl]amino]-3-naphthalen-2-ylpropanoyl]amino]-3-phenylpropanoyl]amino]hexanamide |
| InChI | InChI=1S/C38H49N9O5/c1-38(2,41)37(52)47-32(21-28-22-42-23-43-28)36(51)46-31(20-25-15-16-26-12-6-7-13-27(26)18-25)35(50)45-30(19-24-10-4-3-5-11-24)34(49)44-29(33(40)48)14-8-9-17-39/h3-7,10-13,15-16,18,22-23,29-32H,8-9,14,17,19-21,39,41H2,1-2H3,(H2,40,48)(H,42,43)(H,44,49)(H,45,50)(H,46,51)(H,47,52)/t29-,30+,31+,32-/m0/s1 |
| InChIKey | NEHWBYHLYZGBNO-BVEPWEIPSA-N |
| SMILES | CC(C)(C(=O)NC(CC1=CN=CN1)C(=O)NC(CC2=CC3=CC=CC=C3C=C2)C(=O)NC(CC4=CC=CC=C4)C(=O)NC(CCCCN)C(=O)N)N |