Humulone - CAS 26472-41-3
Humulone (CAT: R007796) is an isoprene phloroglucinol derivative that is a potent cyclooxygenase 2 (COX-2) inhibitor. Humulone acts as a positive regulator of GABAA receptors at low micromolar concentrations. Humulone has antioxidant, antiangiogenic, and apoptosis-inducing properties. This product is used for medical research and development and other scientific research purposes.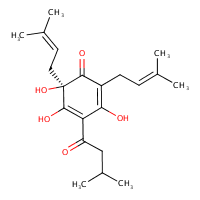 Molecular Formula: C21-H30-O5
Molecular Weight:362.463
* For research use only. Not for human or veterinary use.
Synonym
| | |
| --- | --- |
| Synonyms | Humulone; Alpha-Humulon; Humulon;(6R)-3,5,6-Trihydroxy-2-isovaleryl-4,6-bis(3-methylbut-2-enyl)cyclohexa-2,4-dienone |
Property
| | |
| --- | --- |
| Molecular Formula: | C21-H30-O5 |
| Molecular Weight | 362.463 |
| Purity | ≥95% |
Computed Descriptor
| | |
| --- | --- |
| IUPAC Name | (6R)-3,5,6-trihydroxy-2-(3-methylbutanoyl)-4,6-bis(3-methylbut-2-enyl)cyclohexa-2,4-dien-1-one |
| InChI | 1S/C21H30O5/c1-12(2)7-8-15-18(23)17(16(22)11-14(5)6)20(25)21(26,19(15)24)10-9-13(3)4/h7,9,14,23,25-26H,8,10-11H2,1-6H3/t21-/m0/s1 |
| InChIKey | VZMXLSLKOHIKTQ-NRFANRHFSA-N |
| SMILES | C=1(C(=C(C(=O)<wbr>[C@](C1O)<wbr>(CC=C(/C)<wbr>C)<wbr>O)<wbr>CC=C(C)<wbr>C)<wbr>O)<wbr>C(CC(C)<wbr>C)<wbr>=O |