Histrelin Acetate - CAS 220810-26-4
Histrelin acetate(CAT: I007208) is a synthetic peptide analog of gonadotropin-releasing hormone (GnRH). It is commonly used as a medication for the treatment of hormone-dependent conditions such as prostate cancer, endometriosis, and precocious puberty. Histrelin acetate acts by continuously suppressing the production of sex hormones in the body, thereby reducing the growth and activity of hormone-sensitive tissues.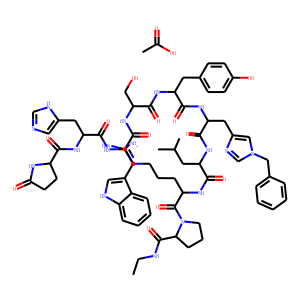 Molecular Formula: C66H86N18O12
Molecular Weight:1323.5
* For research use only. Not for human or veterinary use.
Synonym
| | |
| --- | --- |
| Synonyms | Supprelin LA; Des-Gly10,His(Bzl)6,Pro-NHEt9)-LHRH |
Property
| | |
| --- | --- |
| Molecular Formula: | C66H86N18O12 |
| Molecular Weight | 1323.5 |
| Target: | GnRH |
| Solubility | Soluble in DMSO, not in water |
| Purity | ≥95% |
| Storage | 0 - 4 °C for short term or -20 °C for long term |
| Related CAS. | 76712-82-8(free base) |
Computed Descriptor
| | |
| --- | --- |
| InChIKey | OWAUGAMNPZHEOJ-YKZVIGSYSA-N |
| SMILES | CCNC(=O)C1CCCN1C(=O)C(CCCN=C(N)N)NC(=O)C(CC(C)C)NC(=O)C(CC2=CN(C=N2)CC3=CC=CC=C3)NC(=O)C(CC4=CC=C(C=C4)O)NC(=O)C(CO)NC(=O)C(CC5=CNC6=CC=CC=C65)NC(=O)C(CC7=CN=CN7)NC(=O)C8CCC(=O)N8.CC(=O)O |