HFPO PENTAMER, METHYL ESTER - CAS 133609-46-8
HFPO PENTAMER, METHYL ESTER(CAT: M109939) is a polymer derivative of HFPO used in materials chemistry laboratories as well as in molecular probe design. This product is used in material chemistry, pharmaceutical research and development, and other research fields.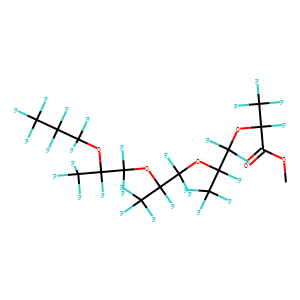 Molecular Formula: C16H3F29O6
Molecular Weight:842.148
* For research use only. Not for human or veterinary use.
Property
| | |
| --- | --- |
| Molecular Formula: | C16H3F29O6 |
| Molecular Weight | 842.148 |
| Purity | ≥95% |
| Storage | Desiccate at +4C |
Computed Descriptor
| | |
| --- | --- |
| IUPAC Name | methyl 2,3,3,3-tetrafluoro-2-[1,1,2,3,3,3-hexafluoro-2-[1,1,2,3,3,3-hexafluoro-2-[1,1,2,3,3,3-hexafluoro-2-(1,1,2,2,3,3,3-heptafluoropropoxy)propoxy]propoxy]propoxy]propanoate |
| InChI | InChI=1S/C16H3F29O6/c1-47-2(46)3(17,8(23,24)25)48-14(40,41)5(20,10(29,30)31)50-16(44,45)7(22,12(35,36)37)51-15(42,43)6(21,11(32,33)34)49-13(38,39)4(18,19)9(26,27)28/h1H3 |
| InChIKey | XCSZRHBSQLYKOK-UHFFFAOYSA-N |
| SMILES | COC(=O)C(C(F)(F)F)(OC(C(C(F)(F)F)(OC(C(C(F)(F)F)(OC(C(C(F)(F)F)(OC(C(C(F)(F)F)(F)F)(F)F)F)(F)F)F)(F)F)F)(F)F)F |