Hexadecanal - CAS 629-80-1
Hexadecanal(CAT: R047296) is also known as palmital. It is prepared by catalytic oxidation of hexadecanol. It is mainly used for the modulation of cosmetics flavor, as well as apricot, peach, berry, and other fruit flavors. This product is used for organic synthesis, pharmaceutical research and development, and other scientific purposes.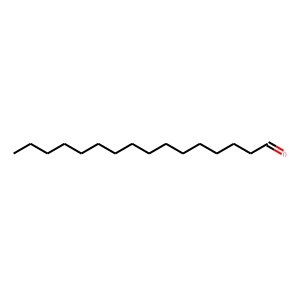 Molecular Formula: C16H32O
Molecular Weight:240.431
* For research use only. Not for human or veterinary use.
Synonym
| | |
| --- | --- |
| Synonyms | Palmitaldehyde; 1-Hexadecanal; Hexadecanaldehyde; Hexadecylaldehyde; n-Hexadecan-1-al; n-Hexadecanal; |
Property
| | |
| --- | --- |
| Molecular Formula: | C16H32O |
| Molecular Weight | 240.431 |
| Purity | ≥95% |
| Storage | -20°C |
Computed Descriptor
| | |
| --- | --- |
| IUPAC Name | hexadecanal |
| InChI | InChI=1S/C16H32O/c1-2-3-4-5-6-7-8-9-10-11-12-13-14-15-16-17/h16H,2-15H2,1H3 |
| InChIKey | NIOYUNMRJMEDGI-UHFFFAOYSA-N |
| SMILES | CCCCCCCCCCCCCCCC=O |