HATU - CAS 148893-10-1
HATU (CAS 148893-10-1; 1-[Bis(dimethylamino)methylene]-1H-1,2,3-triazolo[4,5-b]pyridinium 3-oxid hexafluorophosphate) is a reagent used in peptide coupling chemistry to generate an active ester from a carboxylic acid. HATU is used along with Hünig/'s base (N,N-diisopropylethylamine, DIPEA) to form amide bonds. Generally DMF is used as solvent, although other polar organic solvents can also be used. (Source: https://en.wikipedia.org/wiki/HATU).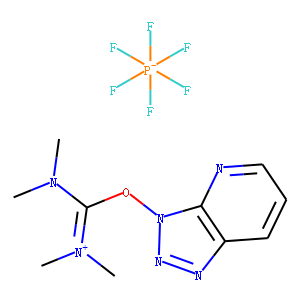 Molecular Formula: C10H15F6N6OP
Molecular Weight:380.235
* For research use only. Not for human or veterinary use.
Synonym
| | |
| --- | --- |
| Synonyms | 1-[Bis(dimethylamino)methylene]-1H-1,2,3-triazolo[4,5-b]pyridinium 3-Oxide Hexafluorophosphate; |
Property
| | |
| --- | --- |
| Molecular Formula: | C10H15F6N6OP |
| Molecular Weight | 380.235 |
| Purity | ≥95% |
| Storage | -20°C |
Computed Descriptor
| | |
| --- | --- |
| IUPAC Name | [dimethylamino(triazolo[4,5-b]pyridin-3-yloxy)methylidene]-dimethylazanium;hexafluorophosphate |
| InChI | InChI=1S/C10H15N6O.F6P/c1-14(2)10(15(3)4)17-16-9-8(12-13-16)6-5-7-11-9;1-7(2,3,4,5)6/h5-7H,1-4H3;/q+1;-1 |
| InChIKey | JNWBBCNCSMBKNE-UHFFFAOYSA-N |
| SMILES | CN(C)C(=[N+](C)C)ON1C2=C(C=CC=N2)N=N1.F[P-](F)(F)(F)(F)F |