GW 4869 dihydrocloride - CAS 6823-69-4
Neutral sphingomyelinases mediate the release of ceramide from sphingomyelin in cellular membranes and can be activated by certain stresses. Ceramide can act as a signaling molecule in its own right, or it can be further processed to generate sphingosine (and sphingosine-1-phosphate). GW 4869 is a cell-permeable, non-competitive inhibitor of neutral sphingomyelinases (IC50 = 1 μM), but does not affect acid sphingomyelinase activity. It inhibits TNF-α-mediated sphingomyelin hydrolysis (100% inhibition at 20 μM) and TNF-α-induced cell death in MCF-7 cells without interfering with activation of NF-κB or glutathione depletion in response to TNF. GW 4869 also reduces the inhibitory effect of oxidized phospholipid products on lipopolysaccharides-mediated induction of interleukin-8 in human aortic endothelial cells and prevents hypoxia-induced pulmonary vasoconstriction in rats in vivo.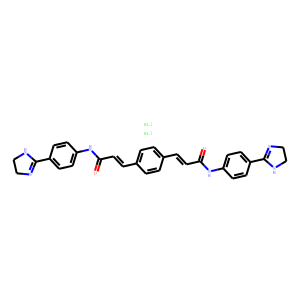 Molecular Formula: C₃₀H₂₈N₆O₂ · 2HCl [xH₂O]
Molecular Weight:577.5
* For research use only. Not for human or veterinary use.
Synonym
| | |
| --- | --- |
| Synonyms | N-SMase Inhibitor;2-PropenaMide, 3,3/'-(1,4-phenylene)bis[N-[4-(4,5-dihydro-1H-iMidazol-2-yl)phenyl]-, hydrochloride (1:2);4/',4/'/'-Di-2-imidazolin-2-yl-p-benzenediacrylanilide dihydrochloride;GW 4869 (hydrochloride hydrate) |
Property
| | |
| --- | --- |
| Molecular Formula: | C₃₀H₂₈N₆O₂ · 2HCl [xH₂O] |
| Molecular Weight | 577.5 |
| Purity | ≥95% |
| Storage | -20°C |
Computed Descriptor
| | |
| --- | --- |
| InChI | InChI=1S/C30H28N6O2.2ClH/c37-27(35-25-11-7-23(8-12-25)29-31-17-18-32-29)15-5-21-1-2-22(4-3-21)6-16-28(38)36-26-13-9-24(10-14-26)30-33-19-20-34-30;;/h1-16H,17-20H2,(H,31,32)(H,33,34)(H,35,37)(H,36,38);2*1H/b15-5+,16-6+;; |
| InChIKey | NSFKAZDTKIKLKT-CLEIDKRQSA-N |
| SMILES | C1CN=C(N1)C2=CC=C(C=C2)NC(=O)C=CC3=CC=C(C=C3)C=CC(=O)NC4=CC=C(C=C4)C5= |