GSK963 - CAS 2049868-46-2
GSK'963 (Cat No.:I019551) is a chiral small molecule inhibitor of RIP1 kinase (RIPK1), with IC50 value of 29 nM in FP binding assay. It is more than 10,000-fold selective for RIP1 over 339 other kinases. GSK'963 can maintain a certain blood concentration and inhibit 90% of RIP1 activity, compared with Nec-1, the duration of action is longer.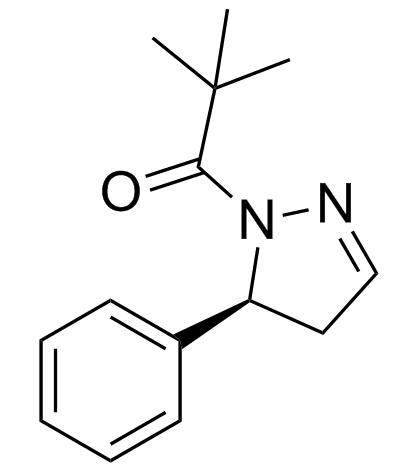 Molecular Formula: C₁₄H₁₈N₂O
Molecular Weight:230.31
* For research use only. Not for human or veterinary use.
Property
| | |
| --- | --- |
| Molecular Formula: | C₁₄H₁₈N₂O |
| Molecular Weight | 230.31 |
| Purity | ≥95% |
| Storage | Store at -20°C |
Computed Descriptor
| | |
| --- | --- |
| IUPAC Name | 2,2-dimethyl-1-[(3S)-3-phenyl-3,4-dihydropyrazol-2-yl]propan-1-one |
| InChI | InChI=1S/C14H18N2O/c1-14(2,3)13(17)16-12(9-10-15-16)11-7-5-4-6-8-11/h4-8,10,12H,9H2,1-3H3/t12-/m0/s1 |
| InChIKey | NJQVSLWJBLPTMD-LBPRGKRZSA-N |
| SMILES | CC(C)(C)C(=O)N1C(CC=N1)C2=CC=CC=C2 |