Glycerol Formal- CAS 4740-78-7
Glycerol Formal (Cat No.:R027462) is a colorless and transparent viscous liquid used as a solvent for veterinary drugs to improve the stability of drugs, increase their solubility, reduce their residues and enhance their efficacy. It can also be used in cosmetics, pesticides, coatings and other industries.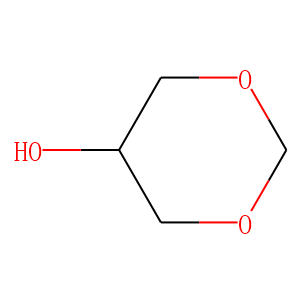 Molecular Formula: C4H8O3
Molecular Weight:104.105
* For research use only. Not for human or veterinary use.
Synonym
| | |
| --- | --- |
| Synonyms | m-Dioxan-5-ol; 1,3-Formalglycerol; 5-Hydroxy-1,3-dioxane; 5-Hydroxy-m-dioxane; 1,3-Dioxan-5-ol |
Property
| | |
| --- | --- |
| Molecular Formula: | C4H8O3 |
| Molecular Weight | 104.105 |
| Purity | ≥95% |
| Storage | Store at -20°C |
Computed Descriptor
| | |
| --- | --- |
| IUPAC Name | 1,3-dioxan-5-ol |
| InChI | InChI=1S/C4H8O3/c5-4-1-6-3-7-2-4/h4-5H,1-3H2 |
| InChIKey | VCKSNYNNVSOWEE-UHFFFAOYSA-N |
| SMILES | C1C(COCO1)O |