GERMANIUM SELENIDE - CAS 12065-11-1
GERMANIUM SELENIDE(CAT: M001271) is a special metallic selenide with unique optical activity, which is generally used to study the optical properties of crystals, crystal microstructure, etc. This product is for scientific research only.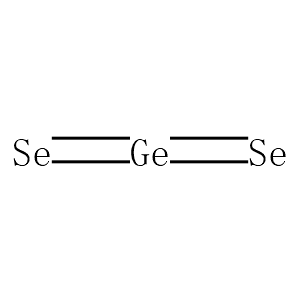 Molecular Formula: GeSe2
Molecular Weight:230.572
* For research use only. Not for human or veterinary use.
Synonym
| | |
| --- | --- |
| Synonyms | Germanium selenide (GeSe2);germaniumselenide(gese2);GeSe2;GERMANIUM DISELENIDE;GERMANIUM(IV) SELENIDE;GERMANIUM SELENIDE;Germanium (IV) selenide (99.999%-Ge) PURATREM;Germaniumselenideorangextl |
Property
| | |
| --- | --- |
| Molecular Formula: | GeSe2 |
| Molecular Weight | 230.572 |
| Purity | ≥95% |
| Storage | -80°C |
| MDL | MFCD00016116 |
Computed Descriptor
| | |
| --- | --- |
| IUPAC Name | bis(selanylidene)germane |
| InChI | InChI=1S/GeSe2/c2-1-3 |
| InChIKey | WYDSCDJEAVCHQJ-UHFFFAOYSA-N |
| SMILES | [Ge](=[Se])=[Se] |