Ganirelix acetate - CAS 129311-55-3
Ganirelix acetate(CAT: M114172) is a gonadotropin-releasing hormone receptor (GNRHR) antagonist. Formulations containing ganirelix have been used to prevent premature ovulation in women undergoing in vitro fertilization. This product is used for medical research and development and other scientific research purposes.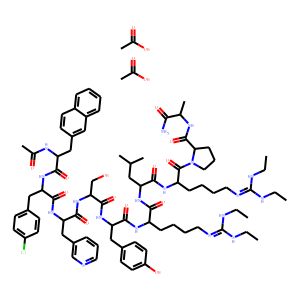 Molecular Formula: C84H121ClN18O17
Molecular Weight:1690.451
* For research use only. Not for human or veterinary use.
Property
| | |
| --- | --- |
| Molecular Formula: | C84H121ClN18O17 |
| Molecular Weight | 1690.451 |
| Purity | ≥95% |
| Storage | -20°C |
Computed Descriptor
| | |
| --- | --- |
| IUPAC Name | (2S)-1-[(2S)-2-[[(2S)-2-[[(2R)-2-[[(2S)-2-[[(2S)-2-[[(2R)-2-[[(2R)-2-[[(2R)-2-acetamido-3-naphthalen-2-ylpropanoyl]amino]-3-(4-chlorophenyl)propanoyl]amino]-3-pyridin-3-ylpropanoyl]amino]-3-hydroxypropanoyl]amino]-3-(4-hydroxyphenyl)propanoyl]amino]-6-[bis(ethylamino)methylideneamino]hexanoyl]amino]-4-methylpentanoyl]amino]-6-[bis(ethylamino)methylideneamino]hexanoyl]-N-[(2R)-1-amino-1-oxopropan-2-yl]pyrrolidine-2-carboxamide;acetic acid |
| InChI | InChI=1S/C80H113ClN18O13.2C2H4O2/c1-9-84-79(85-10-2)88-38-17-15-24-60(70(104)94-62(41-49(5)6)71(105)93-61(25-16-18-39-89-80(86-11-3)87-12-4)78(112)99-40-20-26-68(99)77(111)90-50(7)69(82)103)92-73(107)64(44-53-30-35-59(102)36-31-53)97-76(110)67(48-100)98-75(109)66(46-55-21-19-37-83-47-55)96-74(108)65(43-52-28-33-58(81)34-29-52)95-72(106)63(91-51(8)101)45-54-27-32-56-22-13-14-23-57(56)42-54;2*1-2(3)4/h13-14,19,21-23,27-37,42,47,49-50,60-68,100,102H,9-12,15-18,20,24-26,38-41,43-46,48H2,1-8H3,(H2,82,103)(H,90,111)(H,91,101)(H,92,107)(H,93,105)(H,94,104)(H,95,106)(H,96,108)(H,97,110)(H,98,109)(H2,84,85,88)(H2,86,87,89);2*1H3,(H,3,4)/t50-,60-,61+,62+,63-,64+,65-,66-,67+,68+;;/m1../s1 |
| InChIKey | OVBICQMTCPFEBS-SATRDZAXSA-N |
| SMILES | CCNC(=NCCCCC(C(=O)NC(CC(C)C)C(=O)NC(CCCCN=C(NCC)NCC)C(=O)N1CCCC1C(=O)NC(C)C(=O)N)NC(=O)C(CC2=CC=C(C=C2)O)NC(=O)C(CO)NC(=O)C(CC3=CN=CC=C3)NC(=O)C(CC4=CC=C(C=C4)Cl)NC(=O)C(CC5=CC6=CC=CC=C6C=C5)NC(=O)C)NCC.CC(=O)O.CC(=O)O |