Fulvestrant - CAS 129453-61-8
Fulvestrant (CAT: A000986) is a synthetic estrogen receptor antagonist. Unlike tamoxifen (which has partial agonist effects) and aromatase inhibitors (which reduce the estrogen available to tumor cells), fulvestrant binds competitively to estrogen receptors in breast cancer cells, resulting in estrogen receptor deformation and decreased estrogen binding. This product is used for medical research and development and other scientific research purposes.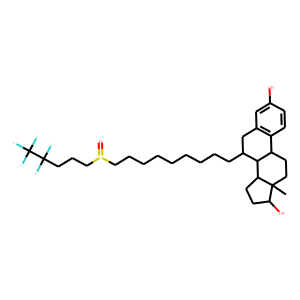 Molecular Formula: C₂₃H₄₇F₅O₃S
Molecular Weight:606.77
* For research use only. Not for human or veterinary use.
Synonym
| | |
| --- | --- |
| Synonyms | 129453-61-8; Faslodex; ICI 182,780; Ici 182780; ICI-182780 |
Property
| | |
| --- | --- |
| Molecular Formula: | C₂₃H₄₇F₅O₃S |
| Molecular Weight | 606.77 |
| Target: | Estrogen/progestogen Receptor |
| Solubility | >30.3mg/mL in DMSO |
| Purity | ≥95% |
| Storage | -20°C |
| MDL | MFCD00903953 |
Computed Descriptor
| | |
| --- | --- |
| IUPAC Name | (7R,8R,9S,13S,14S,17S)-13-methyl-7-[9-(4,4,5,5,5-pentafluoropentylsulfinyl)nonyl]-6,7,8,9,11,12,14,15,16,17-decahydrocyclopenta[a]phenanthrene-3,17-diol |
| InChI | InChI=1S/C32H47F5O3S/c1-30-17-15-26-25-12-11-24(38)21-23(25)20-22(29(26)27(30)13-14-28(30)39)10-7-5-3-2-4-6-8-18-41(40)19-9-16-31(33,34)32(35,36)37/h11-12,21-22,26-29,38-39H,2-10,13-20H2,1H3/t22-,26-,27+,28+,29-,30+,41?/m1/s1 |
| InChIKey | VWUXBMIQPBEWFH-WCCTWKNTSA-N |
| SMILES | CC12CCC3C(C1CCC2O)C(CC4=C3C=CC(=C4)O)CCCCCCCCCS(=O)CCCC(C(F)(F)F)(F)F |