Fmoc-Ser(tBu)-Thr(psi(Me,Me)pro)-OH - CAS 1266350-99-5
Fmoc-Ser(tBu)-Thr(psi(Me,Me)pro)-OH(CAT: I007187) is a specialized amino acid derivative often employed in peptide synthesis. It is constructed with the Fmoc (9-fluorenylmethoxycarbonyl) protecting group for amino termini and the tBu (tert-butyl) protecting group for the serine side chain hydroxyl group. Additionally, the psi(Me,Me)pro modification refers to the insertion of two methyl groups into the proline residue's pyrrolidine ring, potentially altering peptide conformation and properties.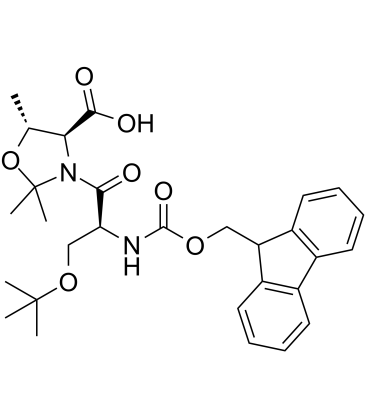 Molecular Formula: C₂₉H₃₆N₂O₇
Molecular Weight:524.61
* For research use only. Not for human or veterinary use.
Property
| | |
| --- | --- |
| Molecular Formula: | C₂₉H₃₆N₂O₇ |
| Molecular Weight | 524.61 |
| Purity | ≥95% |