Fmoc-Ala-Thr(psi(Me,Me)pro)-OH - CAS 252554-79-3
Fmoc-Ala-Thr(psi(Me,Me)pro)-OH(CAT: I007232) is a crucial building block employed in peptide synthesis. With its Fmoc (9-fluorenylmethoxycarbonyl) protection, this compound enables the controlled assembly of peptides through solid-phase synthesis methods. The incorporation of alanine and threonine residues, along with the unique psi(Me,Me)pro moiety, allows for the precise construction of customized peptide sequences. Researchers can manipulate this building block to design peptides with desired structures and functions for applications in drug discovery, proteomics, and biochemistry.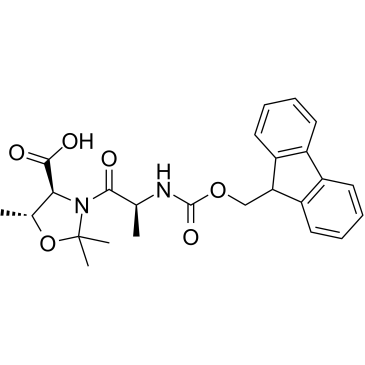 Molecular Formula: C₂₅H₂₈N₂O₆
Molecular Weight:452.5
* For research use only. Not for human or veterinary use.
Property
| | |
| --- | --- |
| Molecular Formula: | C₂₅H₂₈N₂O₆ |
| Molecular Weight | 452.5 |
| Purity | ≥95% |