Fluticasone Dimer Impurity - CAS 220589-37-7
Fluticasone Dimer Impurity (CAS 220589-37-7) is a dimeric impurity of Fluticasone Propionate, which can treat pain, itching, and swelling caused by many skin diseases when applied topically. It can also prevent asthma attacks when inhaled.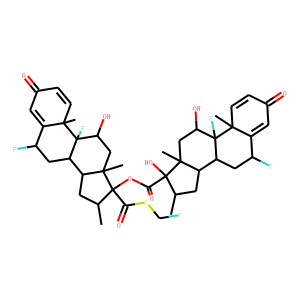 Molecular Formula: C43H51F5O8S
Molecular Weight:822.92
* For research use only. Not for human or veterinary use.
Synonym
| | |
| --- | --- |
| Synonyms | (6α,11β,16α,17α)-6,9-difluoro-11,17-dihydroxy-16-methyl-3-oxo-Androsta-1,4-diene-17-carboxylic Acid (6α,11β,16α,17α)-6,9-difluoro-17-[[(fluoromethyl)thio]carbonyl]-11-hydroxy-16-methyl-3-oxoandrosta-1,4-dien-17-yl Ester; Fluticasone Impurity G; |
Property
| | |
| --- | --- |
| Molecular Formula: | C43H51F5O8S |
| Molecular Weight | 822.92 |
| Purity | ≥95% |
| Storage | Store at -20C |
Computed Descriptor
| | |
| --- | --- |
| IUPAC Name | [(6S,8S,9R,10S,11S,13S,14S,16R,17R)-6,9-difluoro-17-(fluoromethylsulfanylcarbonyl)-11-hydroxy-10,13,16-trimethyl-3-oxo-6,7,8,11,12,14,15,16-octahydrocyclopenta[a]phenanthren-17-yl] (6S,8S,9R,10S,11S,13S,14S,16R,17R)-6,9-difluoro-11,17-dihydroxy-10,13,16-trimethyl-3-oxo-6,7,8,11,12,14,15,16-octahydrocyclopenta[a]phenanthrene-17-carboxylate |
| InChI | InChI=1S/C43H51F5O8S/c1-20-11-24-26-15-30(45)28-13-22(49)7-9-36(28,3)40(26,47)32(51)17-38(24,5)42(20,55)34(53)56-43(35(54)57-19-44)21(2)12-25-27-16-31(46)29-14-23(50)8-10-37(29,4)41(27,48)33(52)18-39(25,43)6/h7-10,13-14,20-21,24-27,30-33,51-52,55H,11-12,15-19H2,1-6H3/t20-,21-,24+,25+,26+,27+,30+,31+,32+,33+,36+,37+,38+,39+,40+,41+,42+,43+/m1/s1 |
| InChIKey | GTZKCEBOBPLPHH-AMISWYLQSA-N |
| SMILES | CC1CC2C3CC(C4=CC(=O)C=CC4(C3(C(CC2(C1(C(=O)OC5(C(CC6C5(CC(C7(C6CC(C8=CC(=O)C=CC87C)F)F)O)C)C)C(=O)SCF)O)C)O)F)C)F |