Fluorapatite (Ca5F(PO4)3) - CAS 1306-05-4
Fluorapatite (Ca5F(PO4)3 (Cat.No: M050223) is a mineral form of calcium phosphate. It is a significant component of teeth and bones, providing strength and stability. Due to its biocompatibility, it finds applications in dentistry, including dental implants and restorative materials. Fluorapatite is also used in materials science and various industrial processes.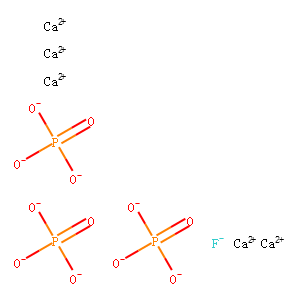 Molecular Formula: Ca5FO12P3
Molecular Weight:504.298
* For research use only. Not for human or veterinary use.
Synonym
| | |
| --- | --- |
| Synonyms | Apatite; Phosphate rock |
Property
| | |
| --- | --- |
| Molecular Formula: | Ca5FO12P3 |
| Molecular Weight | 504.298 |
| Purity | ≥95% |
| Storage | -20°C |
Computed Descriptor
| | |
| --- | --- |
| IUPAC Name | pentacalcium;fluoride;triphosphate |
| InChI | InChI=1S/5Ca.FH.3H3O4P/c;;;;;;3*1-5(2,3)4/h;;;;;1H;3*(H3,1,2,3,4)/q5*+2;;;;/p-10 |
| InChIKey | VSIIXMUUUJUKCM-UHFFFAOYSA-D |
| SMILES | [O-]P(=O)([O-])[O-].[O-]P(=O)([O-])[O-].[O-]P(=O)([O-])[O-].[F-].[Ca+2].[Ca+2].[Ca+2].[Ca+2].[Ca+2] |