Ergovaline - CAS 2873-38-3
Ergovaline (CAS 2873-38-3) is an ergopetine alkaloid commonly found in endophyte-infected species of tall grass fescue. Ergovaline is known to cause tall fescue toxicosis and is toxic to cattle feeding on the infected grass as it inhibits vesicular glutamate transporter activity in cow cerebral synatic vesicles.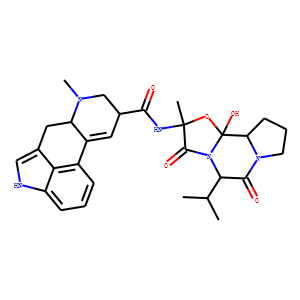 Molecular Formula: C29H35N5O5
Molecular Weight:533.629
* For research use only. Not for human or veterinary use.
Synonym
| | |
| --- | --- |
| Synonyms | (5'α)-12'-Hydroxy-2'-methyl-5'-(1-methylethyl)-ergotaman-3',6',18-trione;?8H-Oxazolo[3,2-a]pyrrolo[2,1-c]pyrazine, ergotaman-3',6',18-trione deriv.; 4,6,6a,7,8,9-hexahydro-7-methyl-N-(octahydro-10b-hydroxy-5-isopropyl-2-methyl-3,6-dioxo-8H-oxazolo[3, |
Property
| | |
| --- | --- |
| Molecular Formula: | C29H35N5O5 |
| Molecular Weight | 533.629 |
| Purity | ≥95% |
| Storage | 2°C to 8°C |
Computed Descriptor
| | |
| --- | --- |
| IUPAC Name | (6aR,9R)-N-[(1S,2S,4R,7S)-2-hydroxy-4-methyl-5,8-dioxo-7-propan-2-yl-3-oxa-6,9-diazatricyclo[7.3.0.02,6]dodecan-4-yl]-7-methyl-6,6a,8,9-tetrahydro-4H-indolo[4,3-fg]quinoline-9-carboxamide |
| InChI | InChI=1S/C29H35N5O5/c1-15(2)24-26(36)33-10-6-9-22(33)29(38)34(24)27(37)28(3,39-29)31-25(35)17-11-19-18-7-5-8-20-23(18)16(13-30-20)12-21(19)32(4)14-17/h5,7-8,11,13,15,17,21-22,24,30,38H,6,9-10,12,14H2,1-4H3,(H,31,35)/t17-,21-,22+,24+,28-,29+/m1/s1 |
| InChIKey | BGHDUTQZGWOQIA-VQSKNWBGSA-N |
| SMILES | CC(C)C1C(=O)N2CCCC2C3(N1C(=O)C(O3)(C)NC(=O)C4CN(C5CC6=CNC7=CC=CC(=C67)C5=C4)C)O |