Eplerenone - CAS 107724-20-9
Eplerenone(CAT: A000257), also known as Inspra and CGP-30083, is a selective aldosterone receptor antagonist used to treat hypertension and congestive heart failure. Eplerenone provides marked protection against vascular injury in the kidney and heart. This product is used for organic synthesis, pharmaceutical research and development, and other scientific purposes.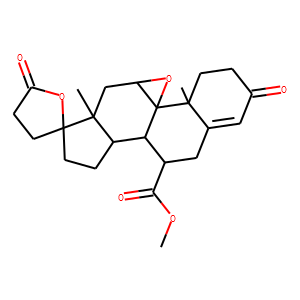 Molecular Formula: C24H30O6
Molecular Weight:414.5
* For research use only. Not for human or veterinary use.
Synonym
| | |
| --- | --- |
| Synonyms | Epoxymexrenone; Inspra; 107724-20-9; Selara; SC-66110 |
Property
| | |
| --- | --- |
| Molecular Formula: | C24H30O6 |
| Molecular Weight | 414.5 |
| Target: | Mineralocorticoid Receptor |
| Solubility | Limited solubility |
| Purity | ≥95% |
| Storage | -20°C |
Computed Descriptor
| | |
| --- | --- |
| InChI | 1S/C24H30O6/c1-21-7-4-14(25)10-13(21)11-15(20(27)28-3)19-16-5-8-23(9-6-18(26)30-23)22(16,2)12-17-24(19,21)29-17/h10,15-17,19H,4-9,11-12H2,1-3H3/t15-,16+,17-,19+,21+,22+,23-,24-/m1/s1 |
| InChIKey | JUKPWJGBANNWMW-VWBFHTRKSA-N |
| SMILES | CC12CCC(=O)C=C1CC(C3C24C(O4)CC5(C3CCC56CCC(=O)O6)C)C(=O)OC |