Enclomiphene citrate - CAS 7599-79-3
Enclomiphene citrate(CAT: I006668), also known as ICI-46476, RMI-16289, and trans-Clomiphene, is a non-steroidal estrogen receptor antagonist in the development for secondary hypogonadism in overweight men wishing to restore normal testicular function. This product is used for medical research and development.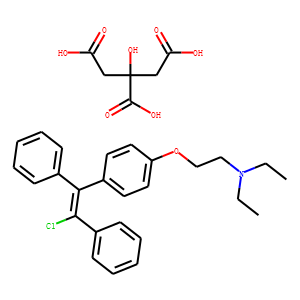 Molecular Formula: C32H36ClNO8
Molecular Weight:598.089
* For research use only. Not for human or veterinary use.
Synonym
| | |
| --- | --- |
| Synonyms | ICI-46476; ICI46476; ICI 46476; RMI-16289; RMI16289; RMI 16289. (E)-Clomiphene citrate; Androxal; Enclomid. Enclomiphene citrate;(E)-2-(4-(2-chloro-1,2-diphenylvinyl)phenoxy)-N,N-diethylethan-1-amine 2-hydroxypropane-1,2,3-tricarboxylate |
Property
| | |
| --- | --- |
| Molecular Formula: | C32H36ClNO8 |
| Molecular Weight | 598.089 |
| Target: | estrogen receptor antagonist |
| Solubility | Soluble in DMSO, not in water |
| Purity | ≥95% |
| Storage | 0 - 4°C for short term or -20 °C for long term |
| Overview of Clinical Research | <span style="color:#000000;"><span style="font-size:12px;"><span style="font-family:arial,helvetica,sans-serif;">Enclomiphene is an estrogen receptor antagonist.&nbsp;Enclomifene is still in pre-registration for Hypogonadism1 in European Union( in March 2019).</span></span></span> |
Computed Descriptor
| | |
| --- | --- |
| IUPAC Name | 2-[4-[(E)-2-chloro-1,2-diphenylethenyl]phenoxy]-N,N-diethylethanamine;2-hydroxypropane-1,2,3-tricarboxylic acid |
| InChI | InChI=1S/C26H28ClNO.C6H8O7/c1-3-28(4-2)19-20-29-24-17-15-22(16-18-24)25(21-11-7-5-8-12-21)26(27)23-13-9-6-10-14-23;7-3(8)1-6(13,5(11)12)2-4(9)10/h5-18H,3-4,19-20H2,1-2H3;13H,1-2H2,(H,7,8)(H,9,10)(H,11,12)/b26-25+; |
| InChIKey | PYTMYKVIJXPNBD-BTKVJIOYSA-N |
| SMILES | Cl/C(C1=CC=CC=C1)=C(C2=CC=C(OCCN(CC)CC)C=C2)C3=CC=CC=C3.O=C(CC(C(O)=O)(O)CC(O)=O)O |