Embelin- CAS 550-24-3
Embelin is a cell-permeable benzoquinone compound that exhibits antitumor properties. Specifically antagonizes XIAP-mediated inhibition of caspase-9 activation by directly targeting the Smac and caspase-9 binding domain BIR3 (IC50 = 4.1 uM in a competitive binding assay with Smac peptide).

IC50 value: 4.1 uM [1]

Target: XIAP

in vitro: Embelin induced activation of caspase-9 and embelin-induced apoptosis was prevented by caspase inhibitors [2]. Treatment with subtoxic doses of Embelin broadly sensitized malignant glioma cells to TRAIL-mediated apoptosis. Notably, human astrocytes were not significantly affected by the combined treatment consisting of Embelin and TRAIL. Combined treatment with Embelin and TRAIL augmented the activation of initiator caspases-8/-9 and effector caspases-3/-7, respectively [3].

in vivo: Embelin inhibited topical edema in the mouse ear, leading to substantial reductions in skin thickness and tissue weight, inflammatory cytokine production, neutrophil-mediated myeloperoxidase activity, and various histopathological indicators. Furthermore, embelin was effective at reducing inflammatory damage induced by chronic TPA exposure [4]. Embelin (10, 30 or 50mg/kg body weight) was administrated daily per oral route for 7days. Embelin significantly attenuated DSS-induced DAI scores and tissue MPO accumulation, which implied that it suppressed weight loss, diarrhea, gross bleeding, and the infiltrations of immune cells. Embelin administration also effectively and dose-dependently prevented shortening of colon length and enlargement of spleen size [5].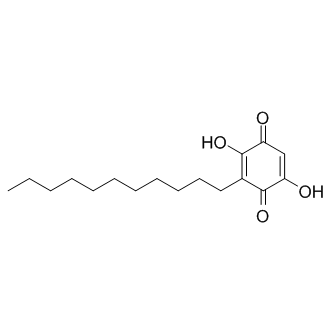 Catalog Number: I004037
CAS Number: 550-24-3
PubChem Substance ID:355039115
Molecular Formula: C17H26O4
Molecular Weight:294.4
Purity: ≥95%
* For research use only. Not for human or veterinary use.
Synonym
| | |
| --- | --- |
| Synonyms | 2,5-dihydroxy-3-undecylcyclohexa-2,5-diene-1,4-dione |
Property
| | |
| --- | --- |
| Molecular Formula: | C17H26O4 |
| Molecular Weight | 294.4 |
| Target: | IAP |
| Solubility | DMSO 10 mg/ml |
| Purity | ≥95% |
| Storage | 3 years -20C powder |
| IC50 | 4.1 uM [1] |
Computed Descriptor
| | |
| --- | --- |
| InChIKey | IRSFLDGTOHBADP-UHFFFAOYSA-N |