Elbasvir- CAS 1370468-36-2

Elbasvir (MK-8742, cas 1370468-36-2) is a small-molecule inhibitor of nonstructural protein 5A (NS5A) of hepatitis C virus (HCV) being developed as a component of treatment regimens for chronic HCV infection.



Elbasvir possesses activity against genotype 1a, 1b, and 3 in vitro, including against some viral variants resistant to other NS5A inhibitors. In a phase 1b dose escalation study, Elbasvir once daily for 5 days resulted in mean reductions in HCV RNA levels of 3.7 to 5.1 log10IU/ml in patients with genotype 1a or 1b infections given 5 to 50 mg/day and of 3 log10 IU/ml in patients with genotype 3 given 50 or 100 mg/day. In later phase 2 trials, treatment with Elbasvir combined with Grazoprevir (MK-5172, an investigational once-daily NS3/4A protease inhibitor) with or without Ribavirin for 12 weeks produced rates of sustained virological response at week 12 (SVR12) of 87 to 98% for patients with genotype 1 infections, including in historically difficult-to-treat subgroups.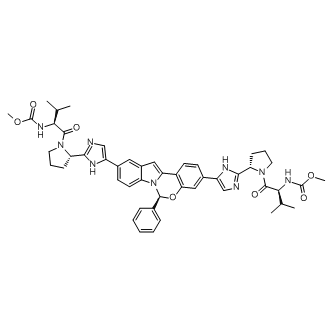 Molecular Formula: C49H55N9O7
Molecular Weight:882.02
* For research use only. Not for human or veterinary use.
Property
| | |
| --- | --- |
| Molecular Formula: | C49H55N9O7 |
| Molecular Weight | 882.02 |
| Solubility | 10 mM in DMSO |
| Purity | ≥95% |
| Storage | 3 years -20C powder |
Computed Descriptor
| | |
| --- | --- |
| InChIKey | BVAZQCUMNICBAQ-PZHYSIFUSA-N |
| SMILES | CC(C)C(C(=O)N1CCCC1C2=NC=C(N2)C3=CC4=C(C=C3)N5C(OC6=C(C5=C4)C= CC(=C6)C7=CN=C(N7)C8CCCN8C(=O)C(C(C)C)NC(=O)OC)C9=CC=CC=C9)NC(=O)OC |